BDA Open Call Audition
Renew your community connections 
with a day of joyful movement
  SUNDAY, SEPTEMBER 19 2021  
BDA OPEN CALL AUDITION MASTER CLASSES
&
DANCER HEALTH DAY WELLNESS SCREENINGS!
Experience master classes with an all-star lineup of  teachers
Adriana Suarez for ballet
Heidi Henderson for modern/contemporary
Michelle Chasse for jazz/musical theatre/commercial
Aysha Upchurch for hip hop
Dancers 18+ are invited to take up to four master classes for one low price, while choreographers are invited to observe and identify artists to be part of their upcoming projects. No one is cut from this audition! It's a day to connect and re-engage!
It all happens at Mass Motion in Brighton, with easy access to public transit and free parking.  Register here today to secure your spot!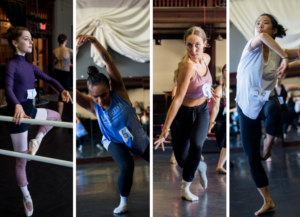 COVID PROTOCOLS  
To attend the master classes, dancers and observing choreographers/artistic directors must show proof of completed vaccination or negative Covid-19 test in last 72 hours.  BDA strongly encourages anyone who is eligible for a vaccination to do so.  As per City of Boston restrictions, all dancers must be masked. Teachers will be masked when they cannot maintain social distance or will mask at their own discretion. For the Dancer Health Day wellness exams, both clients and providers will be masked. All of these guidelines may be changed in accordance with state and local guidelines at the time of the event.
ACCESSIBILITY FOR DANCERS WITH DISABILITIES
While the Open Call master classes are not designed as all-abilities classes, dancers with accessibility needs are welcome to participate along with other members of our community!
Mass Motion's studios and bathrooms are wheelchair accessible. BDA is also hoping to provide ASL interpreters at this event.
Please contact dcash@bostondancealliance.org if you are considering attending and have accommodation requests. It will help us to know as soon as possible so that we can work with you to meet your needs.
Hear all about the experience in 2019…
From a dancer:
This was my first time attending BDA's open call audition and I was very pleased with my experience. The day was beautifully organized; there were no issues with disorganization in terms of registration or classes. Having just graduated my undergraduate degree in New York, I have just come back to dance in Boston. I found this opportunity to serve as a way not only to explore and network with many choreographers but also with dancers. I met some old peers, familiar faces from other local auditions, as well as networked with some new dancers. It brought the Boston dance community together for the day. I appreciate all that BDA's open call audition does for the Boston dance community. Thank you.
From a choreographer:
We adore this event, and have found some wonderful dancers over the years.  BDA reaches dancers we would never reach.
PLUS
Experience wellness exams conducted by Boston's best dance medicine clinicians, brought together by Dr. Lauren Elson and Kester Cotton to boost your strength and health as we reopen! Read all about it here