We are so excited that Jacob's Pillow has unveiled the new design of the reimagined Doris Duke Theatre! Members of BDA's Dance and Disability cohort played a small but crucial role in helping to envision accessibility features that will make this a welcoming space for all and a model for 21st century dance. We can't wait to see the performances that are possible and the artists it will inspire!
The Massachusetts House has approved $25M for the Mass Cultural Council! They also approved 16 earmarks totaling $895K for local arts and cultural organizations.
$25M would mean an 11% increase to Mass Cultural Council's existing operating budget and an essential step in building public investments for the creative sector. Thank you to everyone who advocated for this increase!
Exploring Authentic Connection to Self and Others is a sound and movement workshop focused on connection to Self, self-attunement and authentic connection to others. In this workshop, you will explore this concept through a body scan, breathwork, making sounds, and movement. Monday, May 8, 6:00-7:15 PM at The Dance Complex, Cambridge.
Join the Field Center's Monthly CI Jam on the second Wednesday of each month. Drop in and take class or just join for the open jam! Class runs from 6:30 – 7:30 PM and the Open Jam runs 7:30 – 9:30 PM. Tea and coffee are on the house. All are welcome to bring food or snacks to share. Wednesday, May 10, 61 Williams Rd., Chester, VT.
Kuchipudi dancer Yamini Kalluri dances to Bach's D minor Partita on a special program with Vijay Gupta, "When the Violin". Wednesday, May 10, 7-8 PM, 321 Main St, Worcester, MA.
Sara Juli's Naughty Bits is a performance piece that explores the impacts of trauma on the brain stemming from sexual assault as a child. Interweaving regressed thinking with a conflicted inner voice, coupled with finding the humor in the tragic, the work breaks down victimhood to ultimately reclaim the mind. Wednesday, May 10, 7 PM, at SPACE, 538 Congress, St Portland, ME.
Join Lisa Nevada, Tyler Rai, and the ecology of The Field Center for four days of movement, performance scores, and dances shaped by the land and the work of the late Anna Halprin. Enjoy the Land Dance Rituals, Thursday, May 11- Monday, May 15 at the Field Center, 61 Williams Rd., Chester, VT.
Boston Conservatory at Berklee presents FORWARD: Senior Dance Showcase, featuring graduating contemporary dance B.F.A. students. This concert  features a diverse program of works choreographed by Brian Brooks, Levi Philip Marsman, Celeste Robbins ('19), Bradley Shelver, Jim Viera, and the graduating class of 2023. Thursday, May 11, 7 PM at the Boston Conservatory Theater, 31 Hemenway Street, Floor 2, Boston
Watch Williams College's Pachedu for their all-ensembles performance. This year the students and faculty will examine performances as a collective of movement and storytelling practitioners. Thursday, May 11 & Friday, May 12, 7 PM at the 67 Center for Theatre & Dance, 1000 Main Street, Williamstown.
OrigiNation Cultural Arts Center and the Black Market Nubian Square invite everyone to their social mixer, The Jump Off! Come together as a community to celebrate accomplishments and to learn about their programs. There will be a live DJ, performances, and light refreshments! Friday May 12, 6 PM at The Black Market.
The Celebrity Series' 2023 SHINE! Gala celebrates the power of the performing arts to foster meaningful connection and collaboration in our increasingly divided world. Friday, May 12, 6:30 PM, Cyclorama at the Boston Center for the Arts
MacArthur Fellow Okwui Okpokwasili returns to the ICA with a world-premiere performance combining movement, song, and storytelling. In adaku, part 1: the road opens, Okpokwasili (writer, performer, and choreographer) and Peter Born (director, designer, filmmaker) reframe the oral traditions of West African griot poets and musicians, importing and updating ancient techniques for contemporary audiences.  Friday, May 12 & Saturday, May 13 at 8 PM.
Enjoy a day filled with performances and vendors including aerialists, Ruth Levin and Lynn Modell, a steampunk bellydance show and lots of kids' activities at the Watch City Steampunk Festival in downtown Waltham. Saturday, May 13, 10 AM-5 PM.
Dance is a big part of the Roxbury Community College 50th Anniversary Homecoming Celebration which starts on Thursday, May 11. Homecoming festivities will include discussion panels, commencement, a Community Block Party with food trucks, activities, over 15 local vendors and several performances. On Saturday, May 13, the RCC Media Arts Center hosts a 1 PM Step Show by OrigiNation Cultural Arts Center  and at 7:30 PM a Night of Hip-hop featuring  performances by Red Shaydez, REKS, Edo. G, and BAMS Fest managing director Paul Willis.
Join the first weekend of shows for Dance Now Boston featuring The Bang Group, Janelle Gilchrist, Meghan McLyman & Kristen Duffy Young & Jenny Oliver (commissioned and performed by Boston Dance Theater's Trainee Program). Dance Now creates a creative bridge between NYC and Boston by commissioning Boston choreographers to bring or create work for shared programs. Saturday, May 13, 8 PM & Sunday, May 14, 7 PM at The Dance Complex.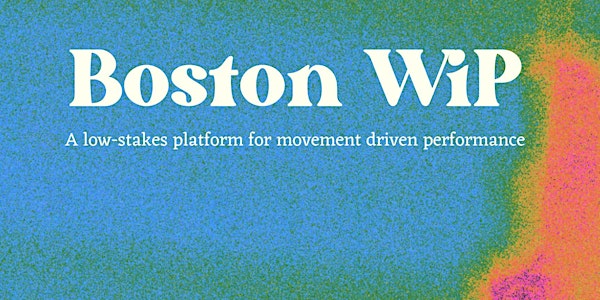 Boston WiP is a low stakes platform for dance and performing artists to present movement driven work. This first installment (of what we hope will be a bi-annual showcase) will be held in the Jackson Gym Dance Lab at Tufts University. Tickets for Boston WiP are donation based/pay-what-you can. All money from ticket sales will be given to the presenting artists! We appreciate your support!
Presenting artists:
Soyoung L Kim | the ChoreoJoey Project | Andrea Muñiz | Andrews Movement | Rose Wood Dance Collaborative | Detritus Dance | five two Dance Company | Natyaroha | Neta Kinetics | The Picnic Sisters | Carmen Rizzo | Mira Göksel | MELLE.
CJT Dream Dance is looking for a ballet teacher and contemporary/modern teacher for beginner and intermediate level located in Burlington, MA for summer and new season. Please contact miat@cjtdreamdance.com if interested!
David Dorfman Dance (Connecticut and New York) is seeking highly skilled and big-hearted dance artists to fill current and future company roles. Artists with an interest in the investigative process and an excitement to collaborate, strong improvisation and partnering skills and a willingness to work with text fit the requirements. Artists of color, LGBTQIA2S+ and nonbinary artists are strongly encouraged to apply. Apply by May 25.
Experience the joy and artistry of Dalcroze Education at the Dalcroze Summer Intensive with director Eiko Ishizuka, Diplôme Supérieur and other internationally renowned faculty. Dalcroze Eurhythmics uses rhythmic movement, intense listening, and improvisation to unlock creativity and open the doors to enriched and enlivened music making. Attend the intensive for one, two or three weeks and will take place on the Longy School of Music campus in Cambridge.
Deborah Mason Performing Arts Center offers summer intensives for all ages. The Children's Summer Dance for ages 7-10 runs from June 26-30. Between July 10-28, intermediate dancers ages 10+ are welcome to join the Bridge Program Dance Intensive. Intermediate/advanced dancers ages 12+ may join the CYDP Dance Company Intensive. Additionally, advanced pre-professional dancers ages 14+  are welcome to the Master Series.
Partners for Youth with Disabilities' Access to Theater program provides arts-focused social development to youth ages 14-22 with and without disabilities. Their free summer Theater program will cover topics in theater, improv, visual arts, or dance over a six week period beginning July 10-August 18 located in downtown Boston.
HIT by SEVENTEEN comes to the sidewalk outside Quincy Market
The sun is shining, the trees are flowering, and it's time to dance 
everywhere
. You'll notice that we've listed events across the state and through New England as travel becomes easier and our spirits more adventurous.
This is the last week to get Early Bird Pricing on tickets to the BDA Gala on June 15. Don't wait! And for further discounts, join or renew your BDA membership! It's going to be a great event!
Best wishes,
__________
Debra Cash, Executive Director