BDA Studio Space Finder
Boston Dance Alliance provides Greater Boston's most comprehensive listing of dance studio spaces available for rent with listings spanning Kittery to the Cape.
Our mission is to help dancers locate the spaces they need to soar — and help keep the dance studio community afloat one rental at a time!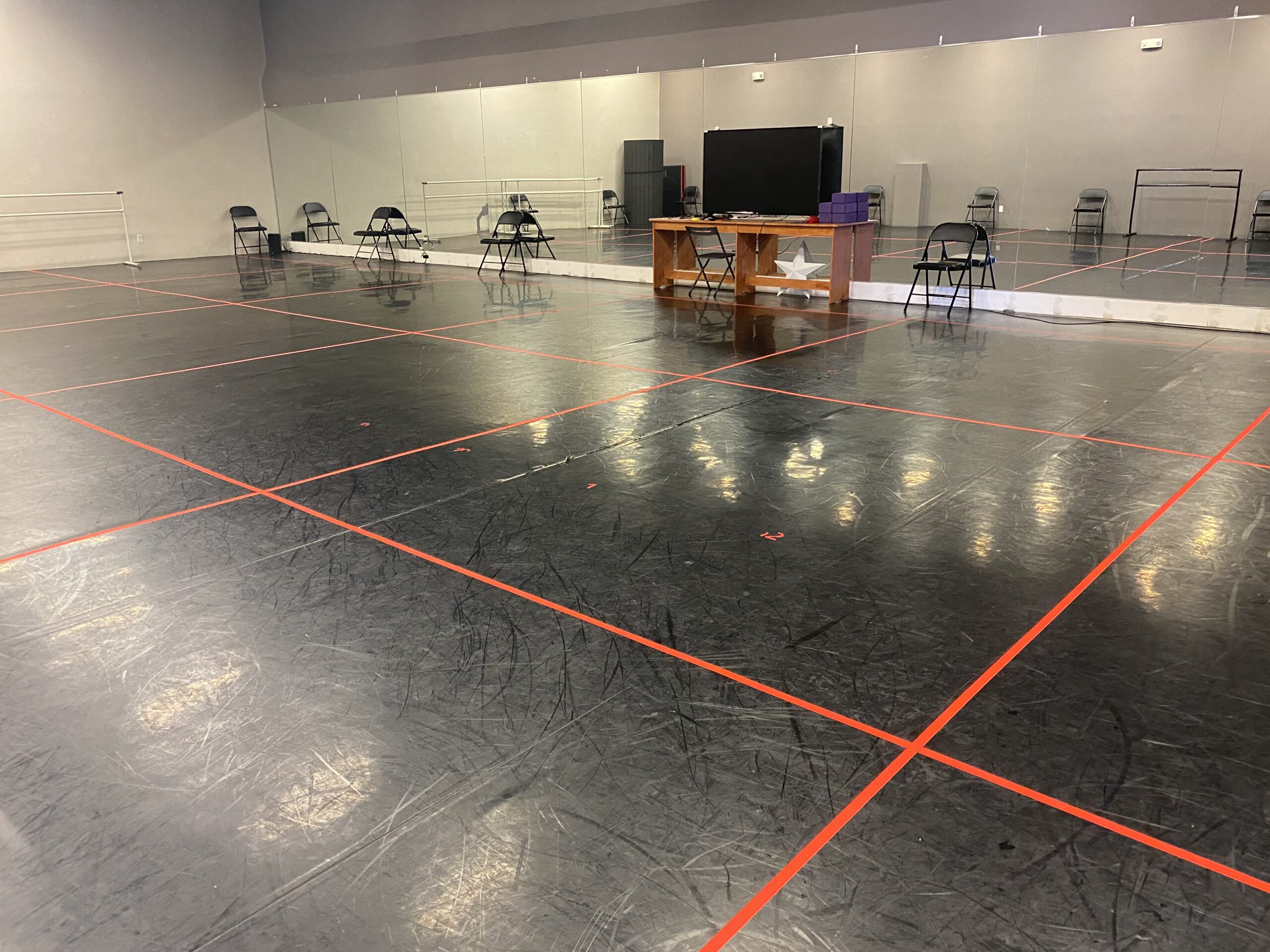 BDA's Studio Finder resulted in the majority of the studio requests our community center received throughout the pandemic. 
Every inquiry we received was impressively from the target audiences we are committed to serving, and resulted in impactful and enduring relationships.
In one case, the Studio Finder resulted in a major motion picture approaching us to hold their local dance callback auditions and rehearsals at our center, and by hosting their auditions, I witnessed first-hand their equitable process of auditioning and casting many local dancers in lucrative principal dancer roles in their film. 
— Dan Yonah Marshall, Brookline/Cambridge Community Center for the Arts
Not on the list yet?
Send the information about your space – Name, location (including neighborhood), and contact information to dcash@bostondancealliance.org. If you have specific links to your space specifications, add those too.
We will not be listing rates or availability, as we know that may change and don't want to disseminate incorrect information.
Posting is free, although we hope you will join/renew your BDA membership as soon as your circumstances allow so that we can continue to provide valuable services like this one.
Want to develop a new artists space? The Mass Cultural Council offers technical assistance resources that can help.
Boston
Salsa Y Control Dance Studio 161 Harvard Ave, Ste 13B Allston, https://www.salsaycontrol.com/classes/allston Andres@salsaycontrol.com. Studio available for hourly rentals, mostly weekends and some weekdays.
Boston Center for the Arts 539 Tremont St, Boston, https://bostonarts.org/ Various spaces may be available, contact Director of Dance Andrea Blesso at andrea@bostonarts.org
 Calderwood Pavilion at the BCA at 527 Tremont Street, Boston.  https://www.bostontheatrescene.com/plan-your-visit/Calderwood/rentals/ Wimberly Theatre, Roberts Studio Theatre, and Deane Hall are all available for rehearsal rentals as well as live streamed or recorded performances (no audiences at this time.) Contact Katie Most at kmost@huntingtontheatre.org  
Lyric Stage Clarendon Hall 140 Clarendon St., Boston https://www.lyricstage.com/about/rent-our-space  Soundproofed, 37'x27′ space has a state of the art sprung wood floor suitable for all genres of dance. Rehearsal and broadcast space only (no classes).  Wheelchair accessible.
Urbanity https://www.urbanitydance.org/ Contact rentals@urbanitydance.org.
725 Harrison Ave, Boston
111 W. Concord St.
1180 Washington St.
Urbanity is renting space in its three Back Bay spaces, with photos on the website, available for private lessons, small groups, video shoots and more.
Brighton, Medfield, and Sturbridge
Mass Motion Dance http://massmotiondance.com/ Contact massmotionboston@gmail.com
Mass Motion is renting space at its three different locations
Brighton 100 Holton St. Brighton
120 North Meadows Rd. Medfield
559 Main St. Sturbridge
Mass Motion has equipped all studios to teach virtual classes. Each studio has a large screen TV and they are installing wide screen HD webcams (preferable to Zooming to and from a laptop.) Priority is given to ongoing rentals that want a consistent weekly time slot.
Masary Studios  15 Channel Center St #105  http://www.masarystudios.com/ Contact jrb@masarystudios.com
Rentable by the hour for rehearsals, and ultimately, for public showings. The floor is a skim coat of a hard epoxy over carpet over concrete. It's clean, but it's not soft. Accessible by T, ADA accessible. Under the right circumstances, renters can also arrange sound system, projectors, and lights.
The Asylum Collaborative https://www.asylumcolab.com Faneuil Hall 200 State Street Suite C-1
Shared workplace on a membership model designed for the arts and creative industries with rehearsal spaces, classrooms, podcast studios and video production space.
Tony Williams Dance Center 284 Amory St, Jamaica Plain  http://tonywilliamsdancecenter.com/ Email dustintwdc@gmail.com for more information.
There are three studios of different sizes. Reservations are primarily weekdays before 3pm, and weekends after 2pm. Details about studio covid protocols are here and about renting procedures here
The Arts Nexus 665 Beacon St., Boston  http://theartsnexus.com/WP/
Fully equipped rental spaces including circus arts rigging for classes, workshops, or auditions or rehearsals steps from the Kenmore T stop.
Upham's Corner, Dorchester
The Strand Theatre 543 Columbia Rd, Boston https://www.boston.gov/departments/arts-and-culture/strand-theatre Contact Matthew Breton MATTHEW.BRETON@BOSTON.GOV
The beautiful vaudeville house owned by the city in the heart of Dorchester available for performances and especially well suited to taping and livestreaming performances.
Cambridge
The Dance Complex, 536 Massachusetts Ave, Cambridge
Studio information and photos here available under covid protocols for other artists, including musicians and actors, too.  Contact Caitlin at caitlin@dancecomplex.org.
Rumba Y Timbal, 7 Temple Street, Cambridge
Access to the entire 2.000 Sq Ft space for your private needs at your convenience. Fits up to 80 people. Enjoy using high-level speakers, dimmable and color-changing lights, mood setting lights, air conditioning, and more. Find photos and information here. Contact Information@rumbaytimbal.com .
CCCA (Cambridge Community Center for the Arts) 500 Kendall Street, Cambridge https://cccaonline.org/, Contact Dan.Yonah.Marshall@gmail.com
CCCA is available for onsite socially distant gatherings, sessions, rehearsals; onsite recordings and live broadcasts of classes, workshops, and shows; onside video and photo shoots; onsite private individual and private group lessons; and online classes, workshops, and events. Production support is available.
Somerville
The Somerville Arts Council has a space finder that includes danceable spaces.
Barre 3, 260A Beacon St, Somerville MA https://barre3.com/studio-locations/somerville, Contact Simone Bernstein simone.bernstein@barre3.com
Barre 3, on the Cambridge line, has light filled studio with mirrors available for rentals to local dancers.
Brookline
The Studio: A Dance Center for Adults, 82 Boylston St., (Second floor) Brookline studiodcfa.com Contact studiodcfa@gmail.com
Limited space is available during the pandemic, but they are happy to make studios available when they are not otherwise being used. View schedule and register online here: https://clients.mindbodyonline.com/ASP/home.asp?studioid=7448 
Watertown
Ballroom in Boston, 100 Parker St, Watertown https://ballroominboston.com/ (313) 288-2784 Two separate spaces, 1,500 sqft and 3,500 sqft. Online rental form, but contact first to determine Covid-19 protocols.
Framingham
Brandi Rae's School of Dance 116 Cochituate Road Framingham https://www.brandiraesschoolofdance.com/  contact info@brandiraesschoolofdance.com.  Specifics will be provided upon request.
Marlborough
Downtown Dance Center  31 Main St, Marlborough https://www.dtdancecenter.com/ contact Matt Parello mparello@aol.com
Stage Door Dance, 488 Boston Post Rd E, Marlborough https://stagedoordancemarlborough.com/ Contact through website or call 508-251-1248
Westford
Spotlight Dance Academy 13 Powers Rd. Westford http://sdawestford.com/ contact Becky Chiasson at (978) 996-4495
Newton
Another Age Productions 19 Needham Street, Suite 207, Newton. Find more information on their studios and rentals on their website: https://anotherageproductions.com/studio-rental/ email contact@anotherageproductions.com or call 617-795-0949.
North of Boston
High Street Studios, 125 High Street, Ipswich MA.  https://www.highstreet.studio/rentals  Contact Jenny Carlson, Owner/Director jenny@highstreet.studio978-206-2682
High Street Studios is a new, ADA compliant open air space, featuring natural wood floors, white and mirrored wall space, and full-size garage doors that may be opened to our parking lot or screened for more privacy while still maintaining a pandemic-compliant atmosphere. This 2000 square foot space may be used as one large room or divided with a retractable wall into two separate spaces of 900 and 1100 square feet, respectively.   Ideal for dance classes, photo shoots, lectures, meetings, private events and more.
North Reading School of Ballet, 52 Main St (Rte 28), #210  North Reading , MA 01864. www.nrsballet.com Contact nrsballet@gmail.com and 978-664-6433 (call or text).
Three studios, all with marley flooring.  Each studio has its own sound system, and is now equipped with 55′ TVS, webcams and chromebooks to stream live classes.  Information is at www.nrsballet.com Contact nrsballet@gmail.com and 978-664-6433 (call or text).
Movement Arts Gloucester MA 11 Pleasant Street,  Gloucester, MA https://magma.center/ Contact Sarah Slifer Swift director@magma.center
MAGMA is renting space for rehearsals, video shoots, workshops, and virtual classes/performances/showings. No in-studio performances at this time. MAGMA is 40×40′, 25′ domed ceiling, elegant historic space with cream walls. White oak wood floors or black marley floor. 7 huge windows with ocean views, blackout curtains available. Theatrical lighting available. Lot parking nearby, 5 minute walk from commuter train.
Windhover Performing Arts Center, 257 rear Granite Street, Rockport, www.windhover.org, Contact Lisa Hahn at lhahn@art-horizons.com
Sited on five rustic acres of open space and inclusive of three studios with mirrors and an outdoor platform, Windhover is a great solution for dance companies to come, rehearse, film the work, and just dance! Overnight lodging is available, and limited outdoor performances within Covid-19 guidelines may be arranged.
South of Boston
Heidi Miller's School of Dance 1600 Boston Providence Hwy STE 4, Walpole, three miles from Gillette Stadium.  Contact  Heidi Miller at heidimsod@gmail.com and  508-847-3739.
Heidi Miller's School of Dance is renting space for rehearsals, video and photo shoots, workshops, and virtual classes/performances/showings. Also available for classes other than dance specific (music, yoga, etc).  The studios feature sprung floor with marley, (dance shoes and percussive shoes are allowed), heat and air conditioning, new high quality air purifier, mirror and plenty of free parking. Widescreen high def TVs and computer access available as well as WiFi in all spaces. Priority is given to ongoing rentals that want a consistent weekly time slot.
And don't forget
Any place can be a danceable space with the installation of the Boston Dance Alliance portable floor. DIY pickup in Medford, or check on the availability of our floor technician, who can deliver, assemble, and return it (paid separately; BDA does not mark up his charges in order to keep rentals as affordable as possible). Details are here