IT 'S TIME TO CELEBRATE
Boston Dance Alliance Gala 2022
Sunday, May 15 2022 6-9 PM
In person at the Multicultural Arts Center and on Livestream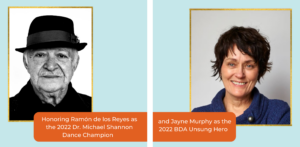 Performances and registration details coming soon!
Mayor Wu wants to hear about your priorities for the city of Boston's budget. Show up and advocate for more arts funding, support for existing and new cultural facilities, and improvements in living conditions that will help artists and all residents thrive. Register for a listening session here.
Take a hip hop class with Allie James Thursday, February 24 from 1:40-2:55 PM and have the opportunity to chat about training opportunities, applications, and all things happening at Bates Dance Festival in Lewiston, Maine this coming summer! This class is open to all current Salem State University students. Community members are invited to attend for FREE but must register in advance by e-mailing dancefest@bates.edu — spots are limited!
Legendary dancer Carmen de Lavallade is one of Berklee's Legacy Awardees alongside  artists Duke Ellington, Sarah Vaughan and Joseph Douglass  Thursday, February 24 at 8 PM and the special event includes choreography in her honor by Dance Division chair Mila Thigpen.
Join Carol Silverman and the Folk Arts Center of New England for a virtual talk on Balkan Romani Music and Dance: Heritage, Profession, Commodity.  Carol's presentation will take a hard look at this heightened atmosphere of xenophobia, where Roma, as Europe's largest minority and its quintessential "other," face the paradox that they are revered for their music and dance yet reviled as people. Thursday, February 24, 7-8PM
Join moderators Laura Perovich, Ilya Vidrin, Nicole Zizzi, and panelists Sydney Skybetter, Lauren Bedal, and Jessica Roseman for this discussion on "methodologies of choreographic thinking that trouble visual dominance in favor of inner, kinesthetic experience and illuminate distinctions in designing in, through, and for the body." Online Friday, February 25 at noon.
Head to the Dorchester Brewing Company on Saturday, February 26 for Mardi Gras Swing Bash with the Rubin Brothers! Dance, celebrate, play games, and enjoy a truly marvelous selection of adult beverages at the one and only Dorchester Brewing while listening to the swinging sounds of the Rubin Brothers' Quartet!
Enjoy an evening of music, dance, and instruction from world-class performers from South America at the Dante Alighieri Society in celebration of Carnevale di Tango on Saturday, February 26 at 6PM. Presented by Fernanda Ghi Dance and Academy & Dante Aligheri Society of Boston
Aysha Upchurch appears on the Dance Complex stage for the second weekend of DANCE NOW Boston  February 26-27 with a piece she has titled "Tensile Joy." Aysha explains the performance as "an exploration into understanding what keeps me going, even when…life says I shouldn't. It is supernatural. It is fuel. It is unfailing. It is radical."
Celebrity Series of Boston welcomes back Colombian dance company Sankofa Danzafro on February 26 and 27th with "Accommodating Lie," by Rafael Palacios. Seven dancers and live musicians dismantle stereotypes, clichés and falsehoods about Black bodies and the meaning of African descent. Special discount for BDA members and our friends $25 each for up to 4 tickets per order with code SD25BDA. This offer is only good through Friday, February 25 so order now!
Doug Elkins' master class FLOOR SWIMMING/Contemporary Technique-Investigations and Improvisational Games happens at the Dance Complex Sunday, February 27 from 1:30 – 3:30  This class focuses on our relationship/dialogue with the floor and moving/dancing on and through the different surfaces of our bodies.
See excerpts from Emily Johnson'snewest project in-development, Being Future Being at UMass's Bowker Auditorium Monday, February 28. Featuring a soundscore by Raven Chacon, the work delves into the power of creation to build a visual, aural and ancestral landscape of Indigenous power.
Bring some joy and funk to your life with Joshua Markiet's freestyle with the Ghetto Funk Collective!
As we say goodbye to February, be sure to stay up to date with funding opportunities with our 2022 Grant and Residency Calendar!
And as always, let us know what you're up to so we can spread the word!
With care,

__________
Debra Cash, Executive Director