THANK YOU TO EVERYONE 
Dancers, Choreographers, Dance Medicine Clinicians, Volunteers, Observers, BDA Board & Staff
who participated in Sunday's Boston Dance Alliance Open Call Audition and Dancer Health Day at Mass Motion! 

Read what the Boston Globe had to say about our "huge" day of return to dance and community building!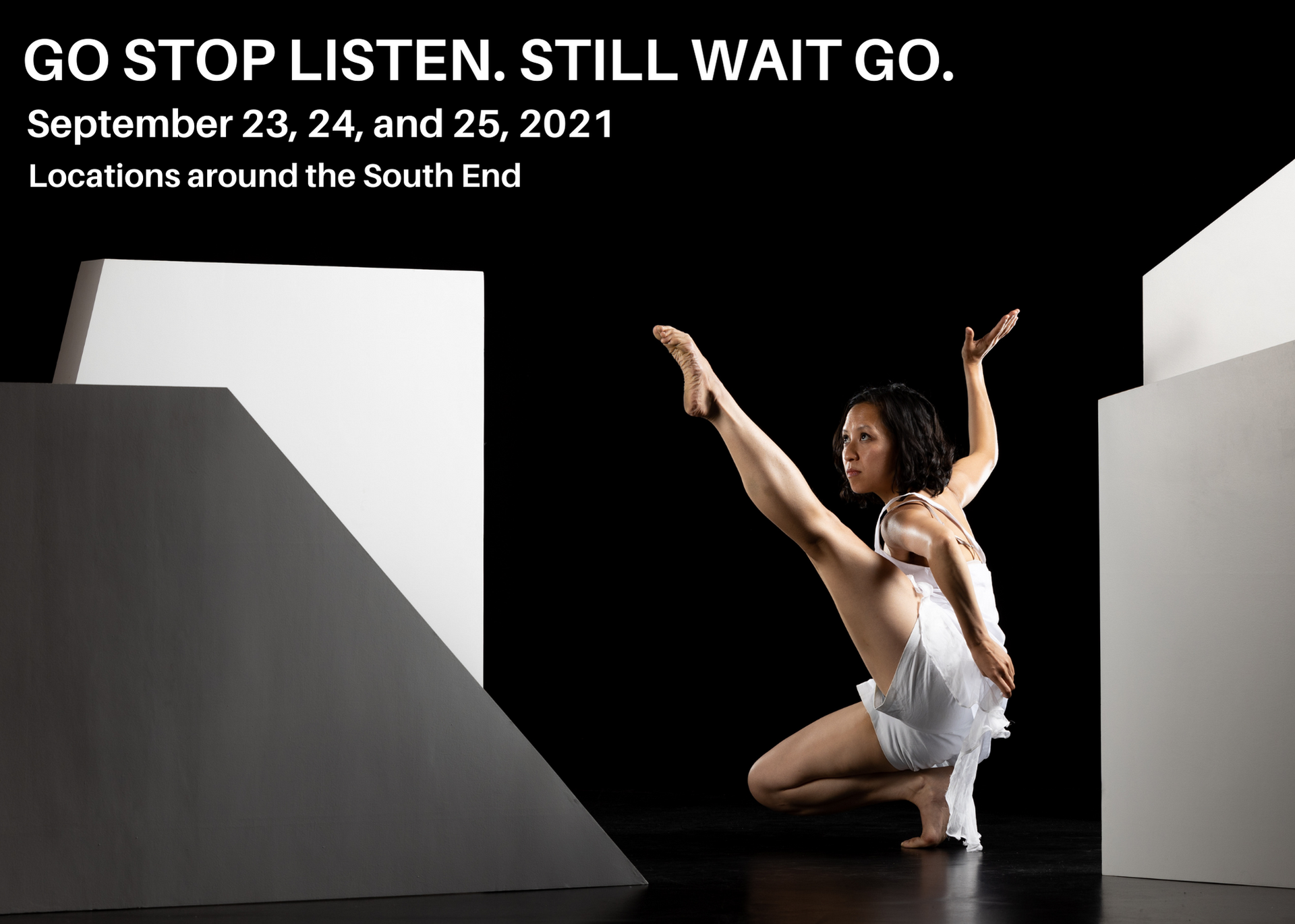 Urbanity's signature dance crawl event is BACK! Choreographed by founder Betsi Graves, Go Stop Listen. Still Wait To Go brings together the talent of Boston movers, musicians, storytellers, and poets September 23-25 at ten locations throughout Boston's South End. Shows take place every five minutes from 6-7:30 PM and audience groups are limited to 6 people — groups that know each other or those that just come together for the adventure.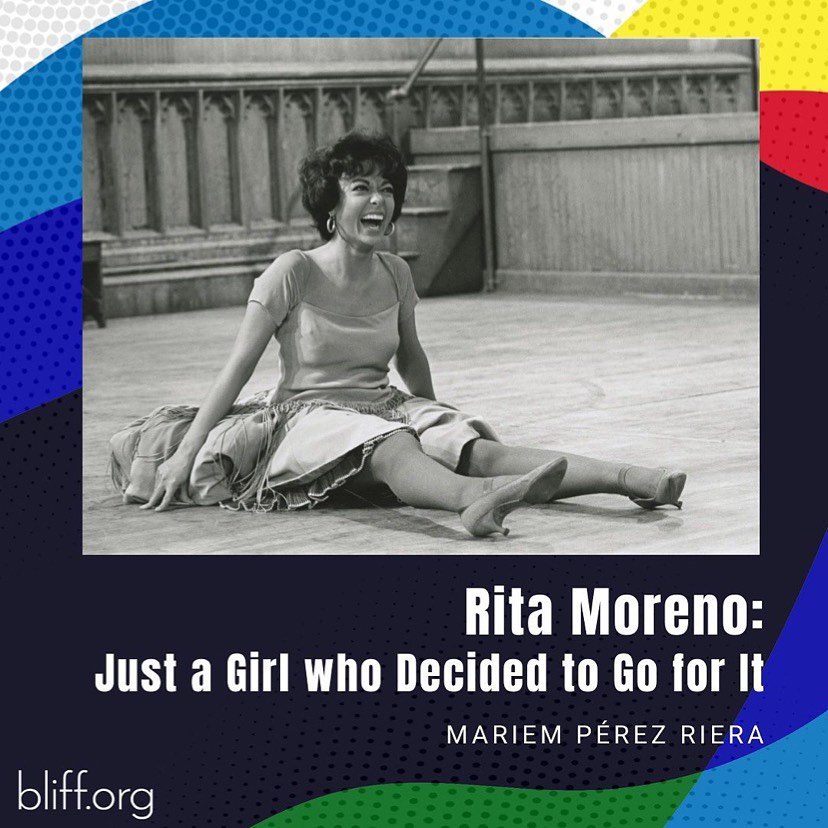 Boston Latino International Film Festival presents a personal look at the great dancer/actress Rita Moreno: Just a Girl Who Decided to Go for It.  Boston Dance Alliance is happy to have cosponsored these screenings, which are on demand September 24 at 6 PM through October 3 at 10 PM.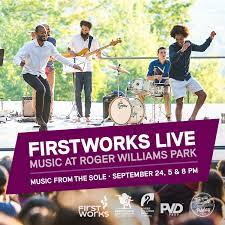 Fusing Brazilian music and rhythms with body percussion and tap traditions, Music from the Sole is led by tap dancer Leonardo Sandoval and bassist-composer Gregory Richardson. Shows are September 24th, 5:00 pm and 8:00 pm at Roger Williams Park.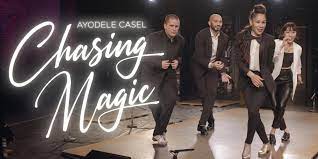 Tap dancer Ayodele Casel: Chasing Magic comes to American Repertory Theatre's Loeb Drama Center September 25-October 9 in an ensemble program that celebrates gratitude, friendship, trust, legacy, culture, ancestors, and collaboration.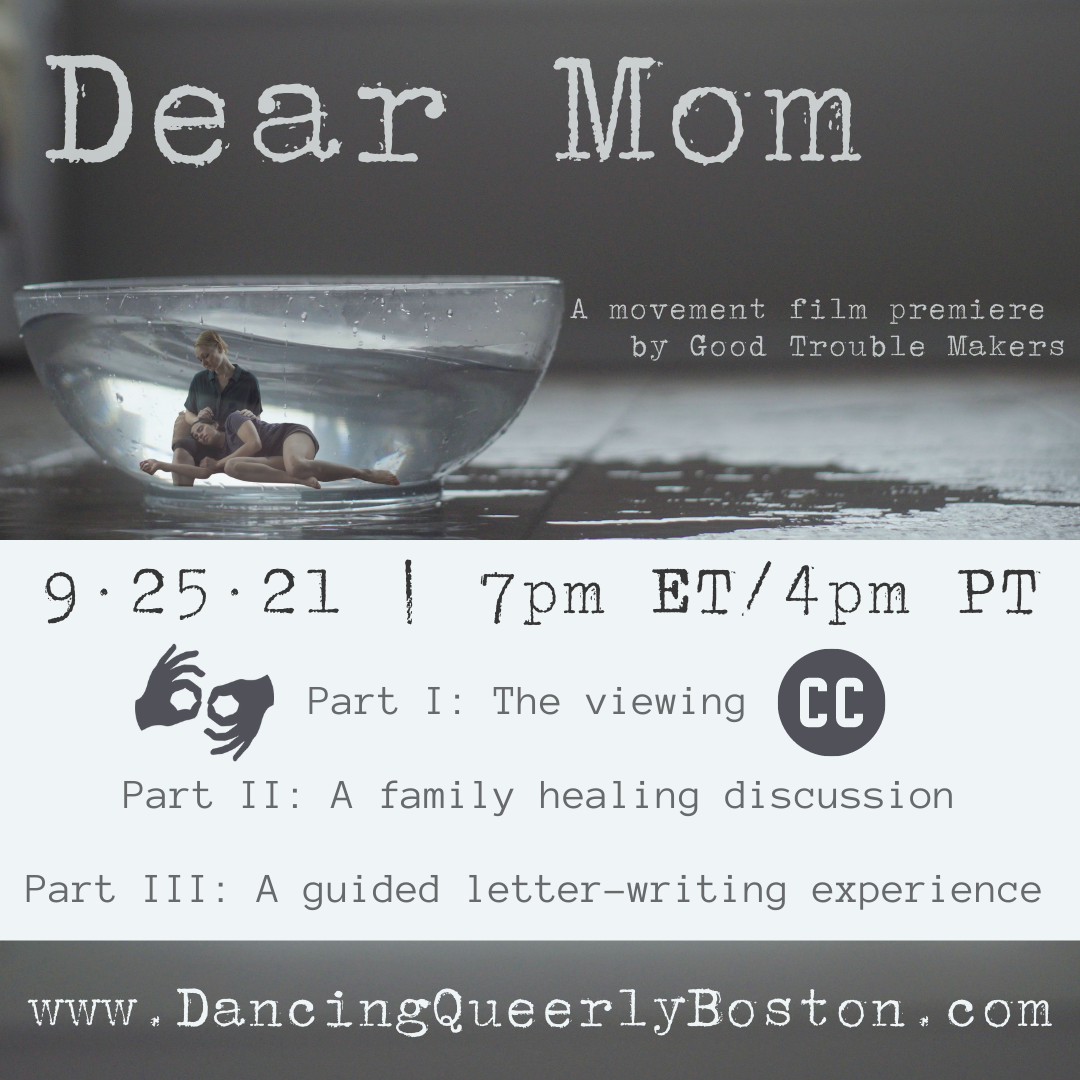 Dear Mom, presented by Dancing Queerly Boston uses movement, film, guided letter writing and discussion to explore the experience of bi+/queer families. On Zoom September 25  7:00 PM – 8:30 PM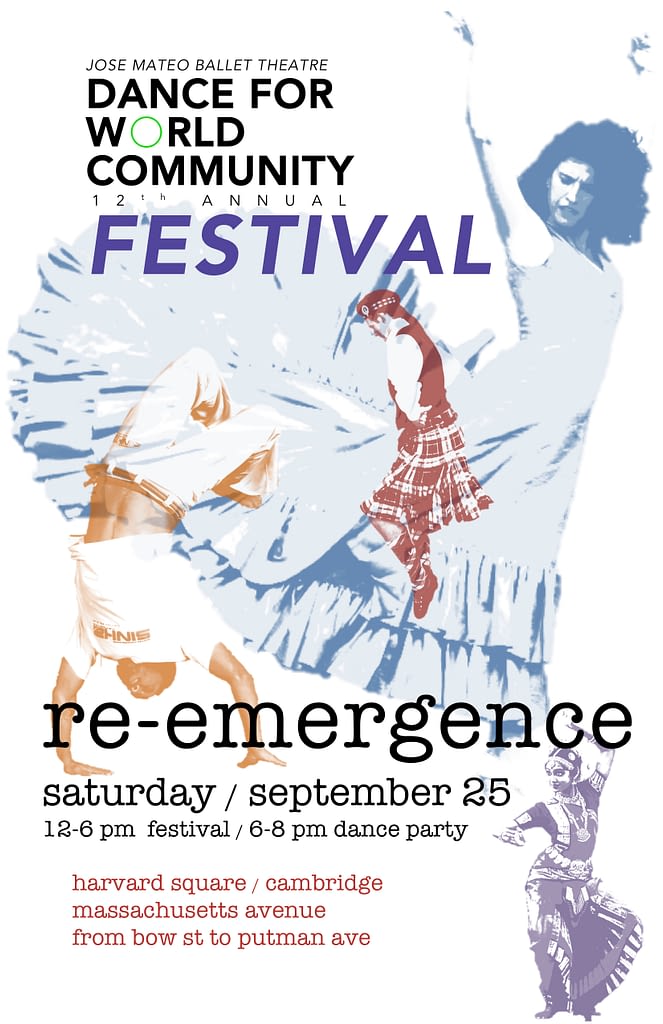 Jose Mateo Ballet Theatre's Dance for World Community returns to the streets of Harvard Square September 25 beginning at noon with both indoor and outdoor performances and introductory classes for dance forms that may be unfamiliar to you! Check out the arts and crafts and food vendors, too.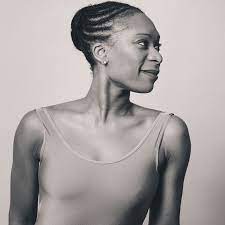 Janelle Gilchrist's Unveiled. created at the Cyclorama through Boston Center for the Arts ACTivate Residency premiers on Youtube through September 26 and will be performed in person at Dance for World Community Saturday September 25th too.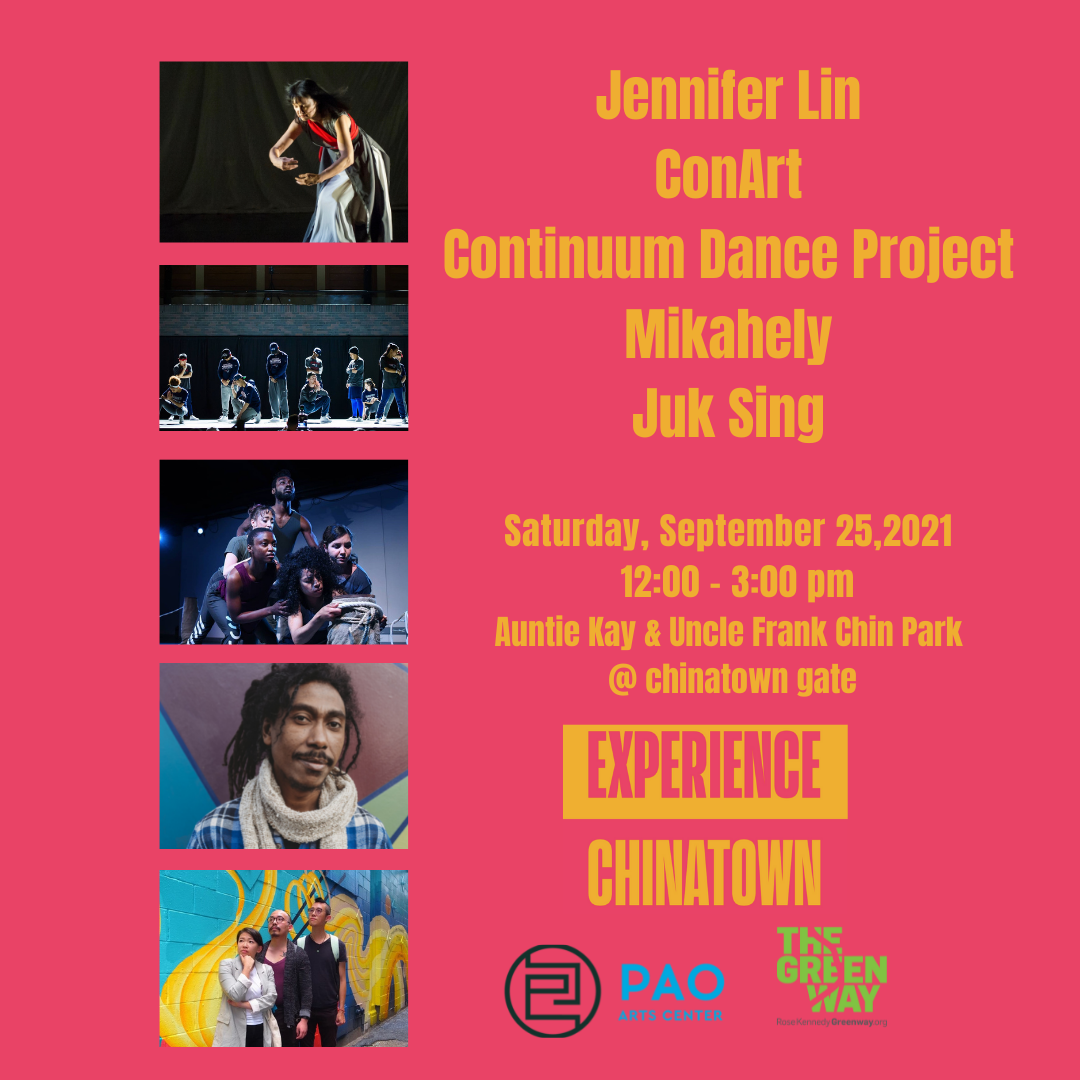 Enjoy dances of Asian and Asian-American heritage on Sat, Sept 25 from noon til 3 pm at Chinatown Park on The Greenway (near Chinatown Gate) with music and dance performances by Jennifer Lin, ConArt, and Continuum Dance Project. 

Wendy Jehlen and Melissa Huser of Anikaya perform a half-hour long "solo for two dancers" titled Breath/less at the basketball courts at Lincoln Park in Somerville Saturday September 25 at 6:45 PM. Breath/less is a ritual of waiting, of suspended expectation, a holding pattern, a maintenance of hope in this period of pause and transition.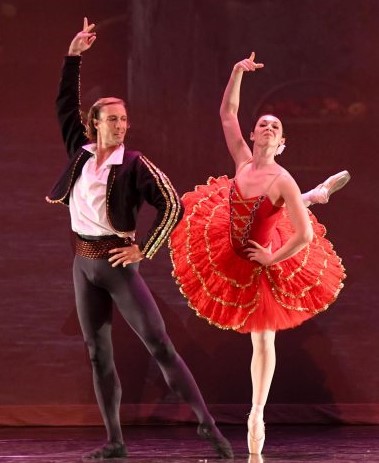 Safe Haven Ballet Company, which focuses on trauma-sensitive dance training, comes to Windhover Center for the Performing Art's outdoor stage in Rockport. Their production of Don Quixote on Saturday, September 25 at 7:00 PM. features Artistic Director Lissa Curtis as Kitri alongside returning guest artist Joseph LaChance as Basilio.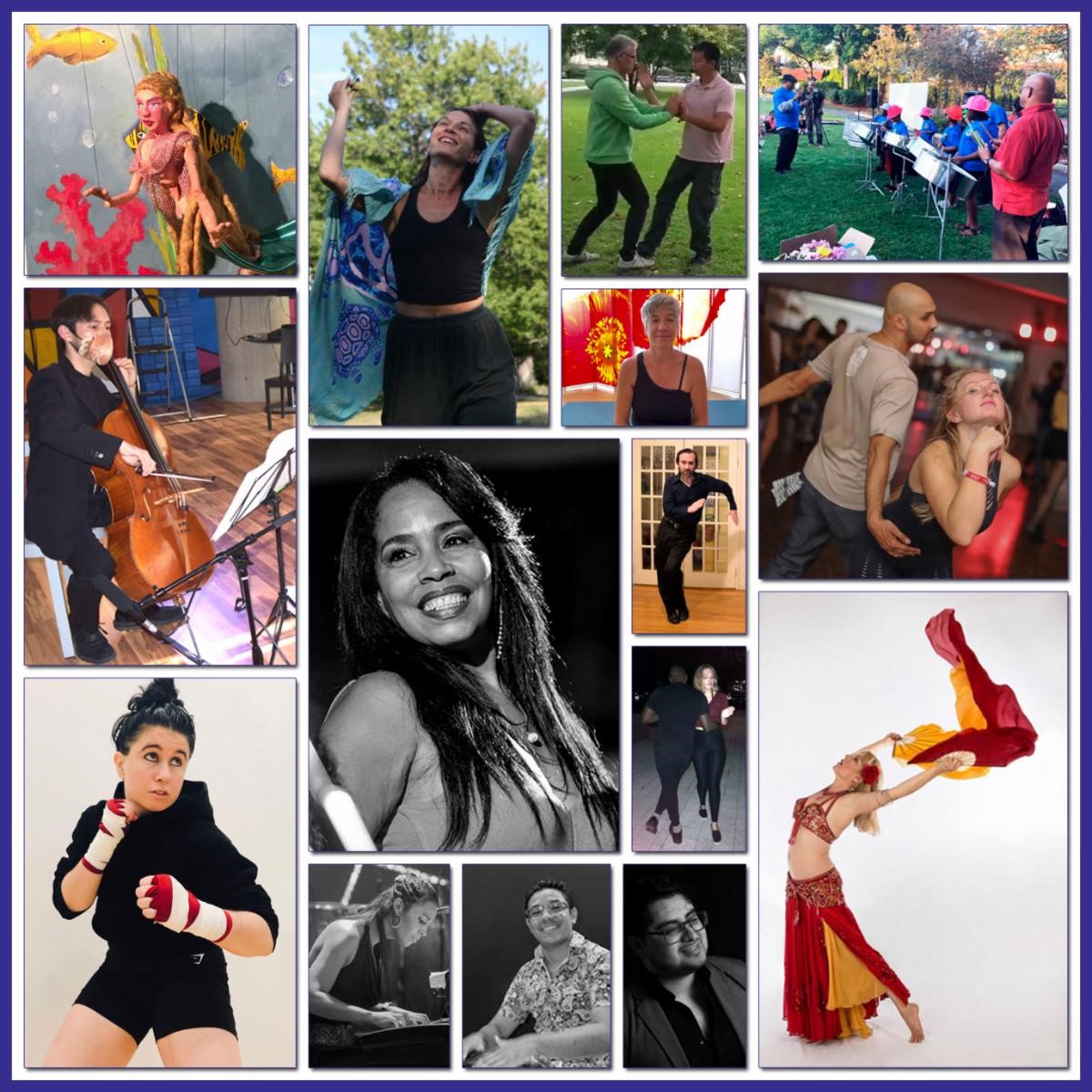 Enjoy theCCCA Fall Arts Festival Sunday, September 26,  11AM-7PM, outdoors at Henri A. Termeer Square at the intersection of Kendall and Athenaeum Street in Cambridge. Events include puppetry, steel drum music, Brazilian Zouk, Urban Kiz, belly dancing, shadowboxing, Tai Chi, yoga, Qigong, meditation, improvised movement, and salsa and cuban music and dancing. Rain Date is Sunday, October 3.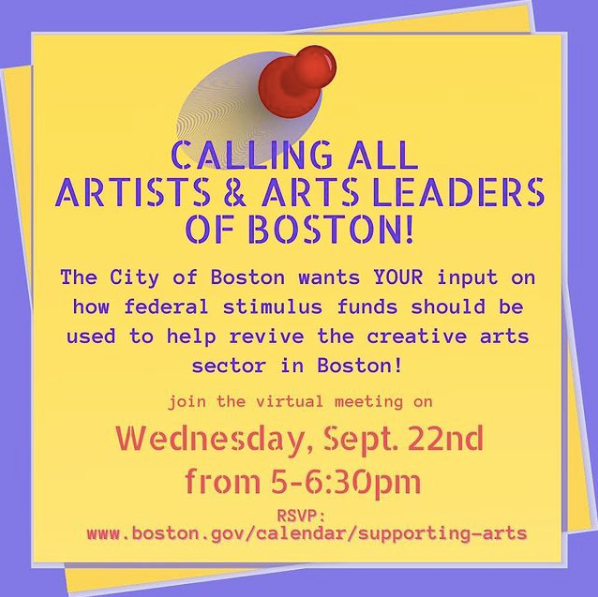 The City of Boston's federal stimulus funds can go a long way to strengthen and expand our arts sector. Join a virtual meeting to share ideas and aspirations on Wednesday, Sept 22 5-6:30 PM. 
NEMPAC is seeking a dance teacher to run the after-school dance troupe for grades 3 – 6 at the Harvard-Kent Elementary School in Charlestown on Monday afternoons October 4-July 13 plus two performances. Contact Amanda Yazinka at dance@nempacboston.org by Wednesday, Sept 22nd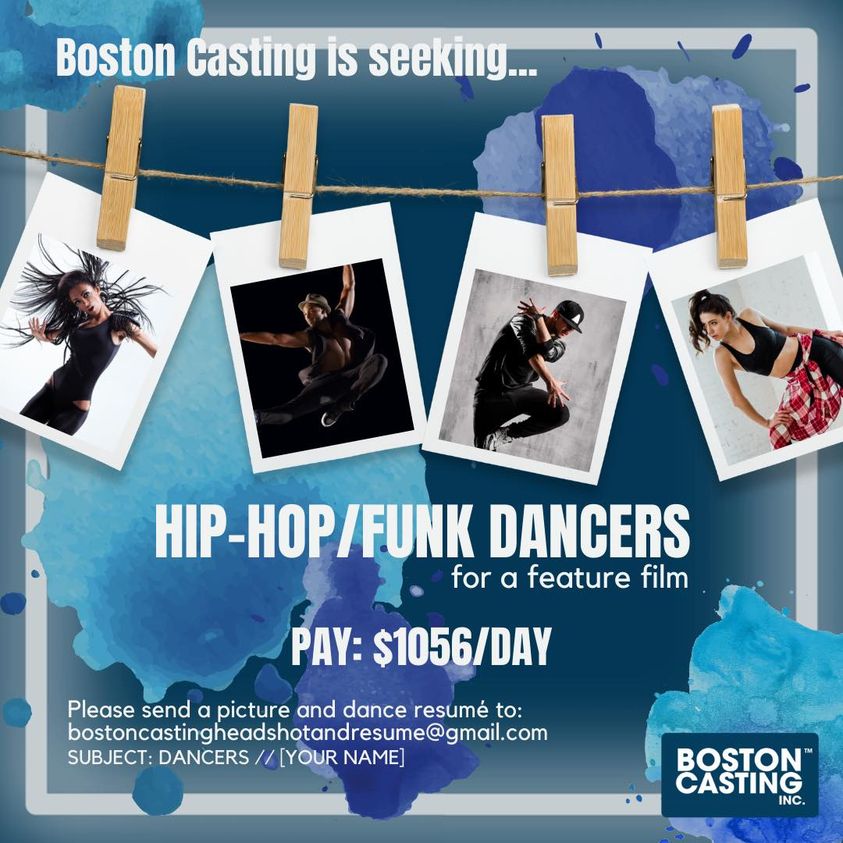 Boston Casting is looking for hip hop dancers. They make it easy for you to remember where to send your information — bostoncastingheadshotandresume@gmail.com with Dancers// and your name in the subject line. The site hasd information about how to be "on file" with them for upcoming gigs, too.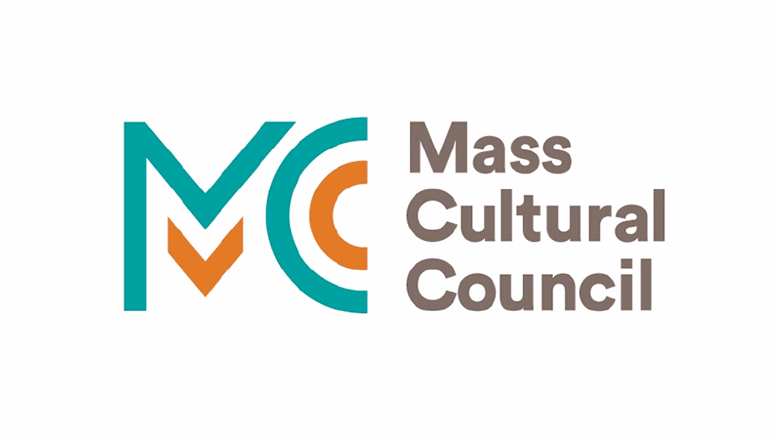 Start getting your application together for this year's Mass Cultural Council's grants in Choreography. Only awarded every other year, this year's Artist Fellowship deadline is Monday, October 25, 2021, at one minute to midnight..
Currently, the program awards grants of $15,000 and finalist awards of $5,000 to Massachusetts artists through a competitive, anonymously-judged process based solely on the artistic quality and creative ability of work samples submitted.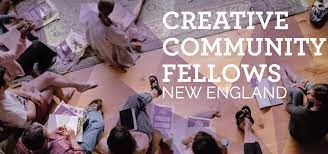 The Creative Community Fellowships, a ten month program to help artists use the power of arts and culture to drive equitable social or physical transformation alongside local partners funded by the Barr Foundation, has a deadline coming up Monday September 27.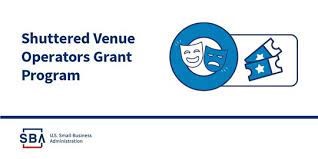 Did you apply for a Shuttered Venue Operators Grant (SVOG)?  According to Tony Shivers at Dance/USA, there are a little over 1,000 total applications left to be processed within the $16 billion SVOG program for a total of about $9.7 billion already obligated. The Small Business Association (SBA) continues to send out email invitations to apply on a rolling basis to eligible applicants – initial award recipients who experience a 70% a great earned revenue loss in Q1-2021 compared to Q1-2019. If you believe you are eligible for an award and have not received an invitation, please continue to check your portal to see if a new action item has been posted.
Check out the Teaching Artist Pay Rate Calculator  to see how much you should be making based on experience and hours. Use it to effectively negotiate your salary, and advocate for organizations to pay teaching artists a living wage!
Nineveh Dance Project is a youth company dedicated to the joy and craft of contemporary, story-based dance. They are holding auditions for our 3rd season and are looking to add intermediate and advanced dancers and movers between the ages of 9 and 25 on September 25, 2021, 2:00 pm – 4:00 pm
North Atlantic Ballet is looking for 2 more male dancers for their 2021/22 Season. Strong classical Ballet technique & partnering required. Class/Rehearsals Mon-Fri 10-2pm, Occasional Sundays, Negotiable compensation /performance.