The Massachusetts State House's FY23 budget, which will fund state programs and operations through June 30, 2023 includes a historic $23,377,000 for the Mass Cultural Council to equitably invest in Massachusetts artists, cultural sector workers, cultural organizations, youth arts programming, and communities.
This figure represents a record $22.5 million for Agency programming compared to last year's $20M and $877,000 for 18 legislatively mandated earmarks that support local cultural projects and organizations compared to just $1,375M last year. The last time the state budget included more than $23 million for arts and culture was in Fiscal Year 1987! Governor Baker has 10 days to review and act on the entire state budget, and there is every reason to be optimistic that these numbers will hold firm.
Congratulations to everyone who worked so hard to bring this budget to fruition!
Boston Dance Alliance is sad to share the news of the passing of Peter Pawlyshyn, a longtime and highly respected ballet and character dance teacher who taught for years with Boston Ballet's School as well as in the Greater Boston/Southern NH area. Peter was an institution in the ballet world, both here and internationally. There will be a memorial service for him in his hometown of Winnipeg, Manitoba. Details are being formulated.
Wilmington Dance Academy begins its two week intensive for dancers ten years old and older Monday July 25 with a range of movement genres including ballet, flamenco, Giordano jazz and yoga/pilates. The focus is on improving both technical skills and a young dancer's confidence.
Chilmark Summer Dance Party with Johnny Hoy and the Bluefish! Join The Yard and the Chilmark Library for a free night of outdoor music and dancing. Bring a picnic, or just come for the show, but be sure to wear your dancing shoes! Tuesday, July 23, at 6:30 PM
Artfulness 2022, An Inspiring Evening of Dance With a passion to collaborate and share the stage with other dance companies, Robyn Goulette, Artistic Director of Saving Grace Dance Ensemble presents a program that includes professional and pre-professional dance companies from Massachusetts, New Hampshire, and guest artists based in NYC. Monday, July 25, 7 PM, at Windhover Center for the Performing Arts, Rockport.
Local artists (individuals and groups) are welcome to join Combined Jewish Philanthropies on
Wednesday, July 27, at 1:30 PM for a virtual information session about CJP's $100,000 Arts and Culture Community Impact Grant Fund.
This summer, Reach: Summer Outreach Dance/Teen Apprenticeship Dance Program returns to meeting in-person and celebrates its 32nd anniversary! Since 1990, Reach has been providing training and mentorship to teen apprentices and bringing dance performances and workshops to Greater Boston neighborhood centers and 1,000 children. Catch their free performance this Wednesday, July 27, 7-8 PM at 766 Commonwealth Ave. parking lot.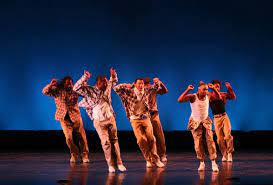 Rennie Harris Puremovement performs the critically acclaimed Rome & Jewels at the Bates Dance Festival to honor the 30th anniversary of RHPM. Rome & Jewels is a retelling of Shakespeare's Romeo and Juliet set in the streets of Harris' native Philadelphia. Thursday, July 28 and Friday, July 29 at 7:30 PM at the Schaeffer Theatre.
Festival of Us, You, We & Them is back! Join the Dance Complex community at Starlight Square from Friday, July 29-Sunday, July 31, for free classes, free performances, BLOOM platform raising conversations and more. **SCHEDULE UPDATE: Raise Your Voice! for Disabilities Dance has been postponed, both Friday and Sunday.**
Suite Talk on July 29th at 6:30 at the basketball court on the corner of Heath Street and Columbus Ave in Jamaica Plain is the final performance of the season and a free barbeque follows for all who attend.
Dance Friday Hosts Biodanza for a Dance Party! This in-person dance event begins with Caroline Churba and ends with a Dj'd open dance with Dave Sheppard. Biodanza is for those who like to share a dance, a song, laughter. There is no right nor wrong, it must feel good for you. Space is limited! Friday, July 29, 8:30-10:30 PM in Cambridge.
The Bliss Fusion Festival created by the organizers of the Boston International Zouk festival, is an inclusive, community-building event with an assortment of Zouk, Kizomba, and Fusion workshops for all levels. Day parties start at 3 PM Saturday, July 30 & Sunday, July 31. Evening parties start at 10 PM and end at 5 AM, Friday, July 29 & Saturday, July 30, with two rooms, one for Zouk and Fusion and one for Kizomba and Urban Kiz.
Urbanity X: the middle explores the personal experiences of Miranda Lawson as a biracial woman. The work explores intersectionality, embodying identities through movement and the ways in which different dance styles come together. Specifically drawing from Hip-hop and contemporary dance, the middle settles in the complexities of Blackness, boundaries and sisterhood. Miranda is joined by her sister Krista Lawson. Saturday July 30, 2022 4:00pm at Urbanity Central and on Zoom.
Ecstatic Dance with DJ FlavYa Experience a freeform movement journey, held in a safe and sacred container facilitated by DJ FlavYa. A nationwide movement, Ecstatic Dance empowers people of all shapes, sizes, and backgrounds through conscious dance and sonic healing. Saturday, July 30, 10:00 – 11:30 AM at The Yard on Martha's Vineyard.
Air Steps a la Lindy Hop by Esh Circus Arts is an opportunity to discover a distinctive style of partnered acrobatics from Lindy Hop and related partner dances. Think powerful, fast, and rhythmic moves, executed with energy and precision. They will help you develop the specific base and flier skills required for these types of moves, building from your existing abilities.
Saturday, July 30, 11 AM – 2 PM.
Watch the Marblehead School of Ballet Summer Dance Intensive performance Saturday, July 30, 1:30 PM! See a range of repertory highlighting ballet, modern, Spanish sevillanas, and more with works by Ivan Korn, Carlos Fittante, Nancy Murphy, and Marius Petipa staged by MSB's director, Paula K Shiff. Reservations required at 781-631-6262 or by contacting msb@havetodance.com.
Elise Roth is in town and she is singing at the Jamaica Pond Boathouse along with her Harvard Squares on Saturday July 30! There'll be an extended beginner Lindy Hop lesson with Elizabeth Coppock and Tayo Sanders from 5-6:30 PM, with time at the end reserved for practice. Live music begins at 7:30 PM. Pre-registration is appreciated.
Email jpjitterbugs@gmail.com if you'd like to volunteer for half an hour to work the door.
OnStage Dance Company presents the 2nd Annual OnStage 360°, a performance series of dance work performed in the round! Viewing dance through this circular perspective allows for exciting experimentation by the choreographers and dancers – and a unique viewing experience for the audience. No two people will view a piece in the same way! Saturday, July 30, 6:00 PM & 7:30 PM at Mass Motion Dance Boston.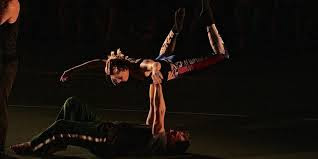 Moving in the Moment brings together Bates Dance Festival faculty, guest artists, faculty and staff alumni, and musicians to rehearse and perform in an improvised dance concert directed by Chris Aiken. Saturday, July 30, 7:30 PM at the Alumni Gymnasium. Dedicated to the memories of Nancy Stark Smith, Kathleen Hermesdorf, and Arthur Fink.
Monthly Dance Party will be back at the Scout House in Concord, MA Saturday, July 30, 8:00-10:30 PM and who can resist dancing together to the mellifluous beats created by Tom Pixton, Barbara Pixton, and Julia Poirier? The event will be hybrid, with a virtual option for those who can't attend in-person.
Interdisciplinary artist Cassandre Charles' 'Self-Portrait' is a multi-media installation in which Cassandre is developing her own artistic style and language as a Black 'ARTchiver'. Saturday, July 30, at ArtAssembled @Assembly Row, 495 Artisan Way, Somerville.
Boston Dance Theater and members of the SURGE East Boston Fellowship perform outdoors at the conclusion of a two-month collaboration exploring current sea level rises and coastal impacts, in partnership with The Boston Foundation + The Trustees of Reservations. Saturday, July 30, and Sunday, July 31, 1 PM at Piers Park in East Boston.
Revolve Dance Project presents six world premiere works in collaboration with professional dancers, musicians, and  choreographers at the historic Jane Pickens Theater in Newport, Rhode Island. Two performances, Sunday, July 31 at 3 PM & 6 PM.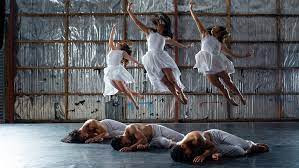 This week at Jacob's Pillow catch New Zealand's powerful Black Grace at the Ted Shawn Theatre and Dichotomous Being: An Evening of Taylor Stanley with the adventurous New York City Ballet principal dancer at the outdoor Henry J. Leir Stage. Also watch Michelle N. Gibson with the New Orleans Jazz Orchestra/NOJO 7  bringing the Second Line aesthetic to the Pillow grounds and Pittsfield!
Lynn Simonson Residency and SMTT Certification starts this Sunday, July 31. Simonson Method of Teacher Training (SMTT) is a one week certification course for established dance teachers who wish to delve deeply into the principles, anatomical components, and teaching methodology of Simonson Technique. Interview is required. Runs Sunday, July 31 -Saturday, August, 6 at Windhover Performing Arts Center.
JOBS JOBS AND MORE JOBS 
Global Arts Live is hiring a full-time Concert Operations Manager to manage all aspects of logistics, artist hospitality, and concert production support at multiple venues in greater Boston. Candidate will also assist in box office, marketing, day-to-day IT management, and other office support and administrative duties.
Seeking 2 young Asian female-identifying dancers for the Hiroshima-Nagasaki Peace Memorial 2022, happening on Saturday, August 6, 2:30 PM at Coolidge Corner Library. Dancers  will represent the Wind and Wings in the 2-minute overture of a concert version of the "face of Jizo" written by Hisashi Inouye. There will be a rehearsal the day before (Friday, August 5), at the Community Church of Boston in Copley Square in the morning or afternoon. $100 stipend. Email drothauser@gmail.com or call 617-332-5014 for more information.
Lexington School of Ballet is seeking a part-time registrar. Approximately 20 – 25 hours per week – after school and evenings hours and possibly Saturday . The Registrar will be the main organizational contact for all students, administrative staff, and faculty members. Contact Mary Petersen (Director) at info@lexingtonschoolofballet.com to apply.
The Curley K-8 Boston Public School is seeking a full-time Dance Teacher to instruct students in grades K-8 and lead a comprehensive dance program. For more information, contact David Diaz (Assistant Principal) at ddiaz@bostonpublicschools.org.
MAKE YOUR VOICE HEARD
Contact Senators Warren and Markey to encourage them to do all they can to have the Senate match House-approved spending levels for the National Endowment for the Arts and National Endowment for the Humanities – $207 million each – this fall. In addition to direct grants, funds flow directly to state arts councils – including the Mass Cultural Council – and then support artists and arts organizations!
Little swans are replaced by little frogs with fantastic results in a Chinese version of "Swan Lake".
Whether you're kicking back or increasing your summer activities, we know dance will be part of it!
Stay well,

__________
Debra Cash, Executive Director