Boston Dance Alliance has brought together a year's worth of grants, residencies and other opportunities throughout Boston for dancers, dancemakers, and teaching artists.
Check the relevant websites for eligibility requirements and program priorities and to participate in candid information sessions where you can get your questions answered.
As new and one-time grant opportunities are announced, BDA will add these to the calendar so check back often!
PLUS
Boston Dance Alliance's class finder will now be easier to use!
Prospective dancers, teachers, and parents can search by location for both virutal and in-person classes to find YOU.
For Boston metropolitan area studios and organizations, please compile:Name of studio/organization, Logo , Location (we list Kittery to the Cape and Worcester to the Islands), Brief description of your class offerings, and Social media and/or website.
For individual teachers who are NOT primarily associated with a studio or organization, please compile: Name, Headshot, Primary geographical location (we list Kittery to the Cape and Worcester to the Islands), Brief description of your classes and how to find your schedule, and Social media and/or website.
Then, just send your compiled information to info@bostondancealliance.org!
Huge congratulations to these Massachusetts artists awarded Grants in Choreography for the 2022 cycle by the Massachusetts Cultural Council!
$15,00 Awards
Allison Kenner Brodsky, Ana Masacote, Jean Appolon, Jun Kuribayashi, Lori Schouela & Junichi Fukuda, Michael Sakamoto, and Rebecca McGowan & Jackie O'Riley
$5,000 Awards
Aaron Myers, Adriane Anne Brayton & Fernandina Chan, Anna S. Myer, Avery Gerhardt, Diane Arvanites, Ellice Patterson, Jennifer Polins, Kelley S. Donovan, Laura Sanchez, Sarah Zehnder, Sunanda Narayanan, Tom James Truss III and Tyler Rai Abramson
We are so happy to learn these New England organizations received Covid relief funds from the NEA – especially exciting since these grants were able fund only 10 percent of applicants.
Congratulations to these organizations close to BDA's heart
In Massachusetts:
Jacob's Pillow Dance Festival (aka The Pillow) $150,000
Boston Center for the Arts $100,000
Open Door Arts, $50,000
Dance Complex $100,000
The Yard $100,000
Jean Appolon Expressions $100,000
And elsewhere in New England
Dance Hall $50,000
Bates Dance Festival $150,000
Flynn Center for the Performing Arts $100,000
Governor Charlie Baker's budget funds Mass Cultural Council at $20,382,378. This is the highest-ever level of funding the Baker-Polito Administration has recommended for the Agency in its eight years, and represents a 25.1% increase from the FY22 H. 1 proposal of $16.3M last year.
As the Omicron spike continues, please check websites/social media for changes to any in-person events before heading out!
BeauTease Burlesque and Flying Embers invite you to an evening of hand-clappin', toe tappin', classic jazz and swing – with the added bonus of some sizzling burlesque dancers doing what they do best!  Thursday, February 3 at 7PM.
Jose Mateo Ballet Theatre is hosting an Open House for youth classes on Saturday, February 5 at 10:30AM. The Young Dancers Program, offering ballet training for children ages 3 to 18, has an unsurpassed reputation throughout New England for its excellent, humanistic approach to ballet education.
See Subject:Matter Tap perform Songbook, at the Chrystal Ballroom on Saturday, February 5 at 8pm. Subject:Matter explores where tap dance has been, where it's going, and what it looks like right now. The company and its touring band will perform Songbook, a reimagining of beloved tunes from the Great American Songbook featuring some of New England's best tap dancers and musicians.
Goldilocks and the Three Bears is back in Festival Ballet Providence's enchanting chatterboxtheatre series. Performances take place on consecutive weekends, February 5-20. Families are invited to revisit this delightful classic fairy tale and marvel as they watch a trio of adorable dancing bears as they cavort with the mischief-making Goldilocks.
Stream the film SanDance! for free on Sunday, February 6 at 2PM. Filmed in Namibia and Botswana, SanDance! is an independent documentary covering the dance culture of Africa's San (Bushman) First Peoples. A live conversation with the filmmaker, Richard Wicksteed, will follow the screening.
Attention BDA members! Every year, the StageSource Job Fair is where local theaters and entertainment organizations come to meet new applicants. This year the Job Fair is coming to you digitally on Monday, February 7! Attending Organizations & Job Seekers will have the opportunity to meet one-on-one for 10 minutes over Zoom, or join networking break out rooms to meet with other members of the community.
aMaSSiT (A MAKE IT / SHARE IT / SHOW IT) applications are due by February 7, 2022 at 11:59pm!
This year's focus is exploring passionate practice. The lab will be designed to bring tenets of choreography into dialogue with these passionate subject areas, deepening the skill and craft to effectively communicate through the craft of performance/dance making. See the application HERE
Applications are now open for the 10th Annual Bay Area International Deaf Dance Festival. Dancers, poets, musicians and artists in the Deaf or Hard of Hearing are invited to apply for the Bay Area festival that celebrates Deaf diversity in artistry, uplifts the Deaf ecosystem and provide opportunities for Deaf and hearing humxns to present in dance.
Application details, deadline to apply: February 15, 2022
Moving West Dance Theatre, based at the Performing Arts Center of MetroWest in Framingham, is looking for dancers to participate in a multi media dance production late spring 2022. The production entitled 'Awakenings' will be a collaboration involving 2 choreographers, live music, film and dancers in both new and recreated works.

Dancers need to commit to weekend rehearsals in Framingham, determined by participants schedules. The production dates are June 3&4 in Framingham. Production week will require extra evening rehearsals. Dancers will receive a stipend for their performance commitment to 'Awakenings'.
Dancers should have a history of dance training and performance, and be comfortable and excited about working collaboratively to bring original modern dance works to community audiences. The production will include professional musicians in piano, violin, guitar, and more.
Interested participants should contact Lynne Johnson Grynkewicz, Artistic Director, by phone or email. Questions can be addressed through direct contact: Mwestlynne@gmail.com
The 8th annual Evans/Williams SOMATIC DANCE CONFERENCE & PERFORMANCE FESTIVAL presents "Embodying Joy: Empowering Students and Ourselves with Somatic Knowledge" is seeking proposals for conference presentations exploring strategies for embodying joy: empowering students and ourselves with somatic knowledge, through somatic dance, somatic investigation, dance science and dance pedagogy as well as choreographic/performance works for formal concerts. We are particularly interested in collaborative presentations by two or more artists/educators/scholars.

Papers, 20 minutes
Movement Workshops, 60 minutesRound-Table Discussions, on the conference themes, 75 minutes (We have capacity for two R-T sessions)
Choreographic Works for formal presentation on the spacious stage of the Deming Theatre in the beautiful Gearan Center for the Performing Arts (We have capacity for up to 16 works.)
Click here to submit a proposal. Accepted until March 15, 2020
BalletRox is seeking a part-time dance teaching assistant for the BalletRox External Partners Program. BalletRox works with Boston Public Schools, private schools, and after-school programs. There are confirmed partnerships with Mather School, Roger Clap School and Henderson Inclusion School all located in Boston, MA. Most of these positions will be following the Boston Public Schools calendar from September 2021 to June 2022 and operate during the normal school day hours. Please note that BalletRox is actively searching for more external partners for the upcoming school year. We will consider additional applicants who may have in-school and after-school availability in the case that new partnerships arise. We will also keep in mind applicants available for substitute teaching openings. The hours for the positions available are listed below. The pay will be $25/hr.
Calling all dancers! How did the pandemic affect your training and your well-being? Drs. Marissa Schaeffer, PT, DPT, CSCS and Sheyi Ojofeitimi, DPT, OCS, CFMT, CIDN want to know! They are collaborating with Columbia University's Program in Physical Therapy to examine the effects of the COVID-related shutdown on the dance community. If you are a pre-professional or professional dancer, would you take this brief 10-15min survey? All surveys results are anonymous and completely confidential. Thank you!
Only 1 day left to nominate a Boston Dance Alliance 2022 Dance Champion
Deadline is TOMORROW, February 1 2022 at midnight!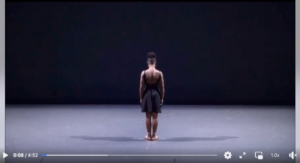 See Michaela DePrince's first performance with Boston Ballet: Portrait, choreographed by Peter Leung! She writes, "I can't express how good it felt; it was quite a moment for me. The upcoming weeks we are training every day, back to back and I can't wait to show you, be on stage and experience everything this next chapter holds… 
"⠀
We hope you're finding ways to stay grounded as grant cycles and auditions pick back up.
Happy lunar year of the Water Tiger, a time of taking risk and acting with generosity!

__________
Debra Cash, Executive Director