The  BDA Virtual Gala is a week from tomorrow, Sunday June 14, 2020 from 4:30- 6 p.m. You can be a part of it for as little as a $10 donation! Your donation is 100% deductible,so please be as generous as you can.
We want as many people as possible to join us virtually as we honor beloved ballet teacher and choreographer Margot Parsons and arts educator and advocate Myran Parker-Brass, and thank Alicia Downey as she steps down from 11 years on the BDA Board. Performances, speeches and a chance to gather virtually — we have missed each other!
Consider making a toast to your favorite honoree. Deadline for toast videos is tomorrow, June 7, so don't delay.
All registrants – including those who bought tickets for our planned in person gala back in March — will receive information about how to log in. We are really looking forward to seeing you!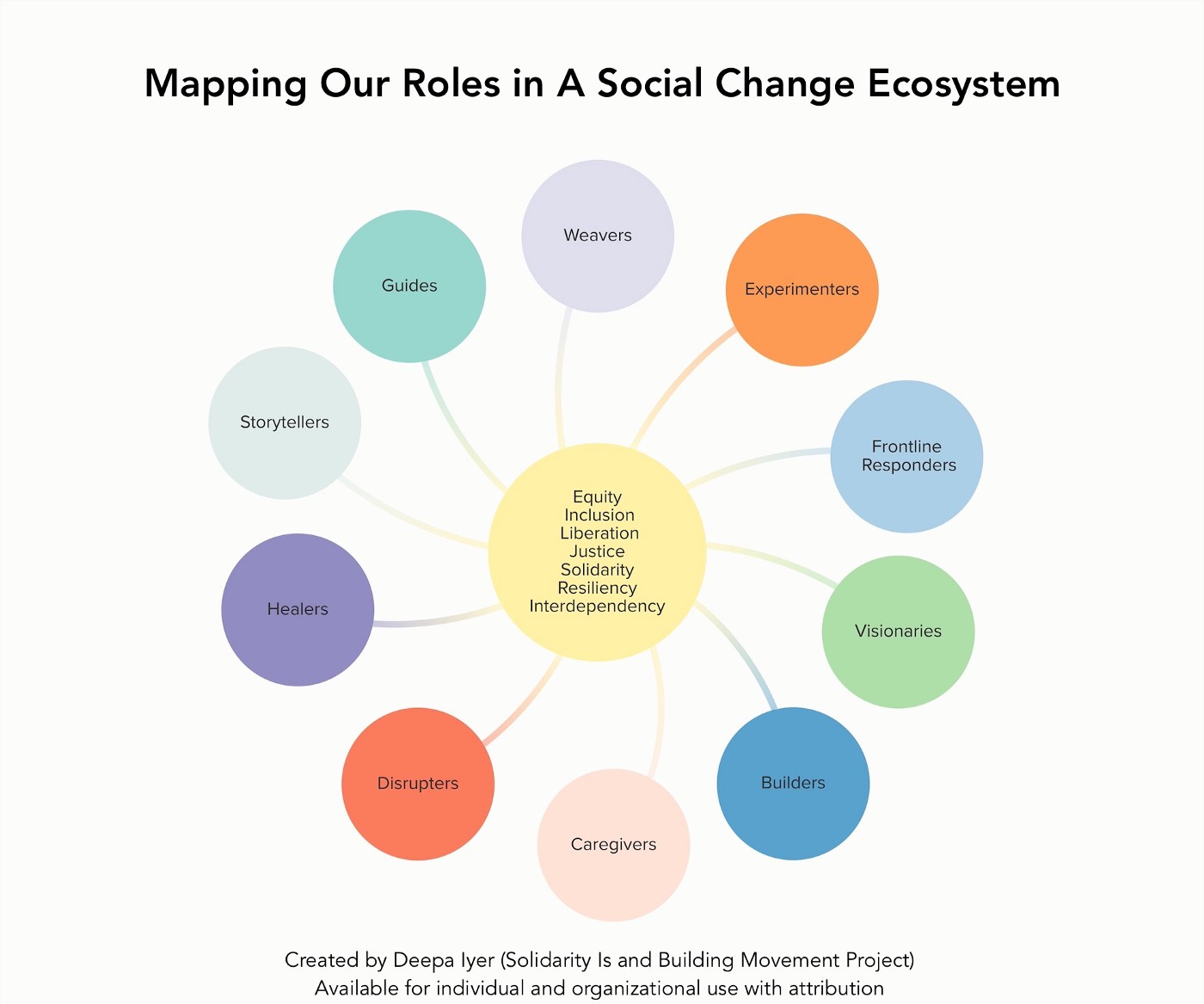 During a time of national pain and necessary reflection, we found this model from the activist Deepa Iyer to be a helpful framework. Where do you stand? What are the needs of our community? How can you contribute?
Dance Studio Reopenings
Boston Dance Alliance is proud to be working closely with the Boston Mayor's Office on Arts and Culture to help draft the discipline-specific guidelines for dance studio reopenings. This information, based on opening guidelines from other countries ahead of us on the coronavirus curve, practical advice from our colleagues at Dance/USA, in the theatre, and those working in fitness studios and educational settings, will be vetted by public health professionals before they are released. If you have particular questions or concerns these recommendations we should address, please email them to dcash@bostondancealliance.org.  Massachusetts dance studios are not expected to be allowed to open until Phase 3.
Casting Coin is looking for Boston dancers and gymnasts who can be part of a shoot for a global sneaker brand. The one-day Boston shoot will be around June 29-30. You should be a fit model, dancer and/or gymnast in your 20s
who can really move in front of the camera for a Tik Tok style shoot
They are specifly seeking
1) Male who can do hand flips
1) Female (plus size)
1) Female (petite)
To apply send your Instagram handle to michelle@castingcoin.com
BDA is planning to reactivate our jobs and auditions page when more activities are allowed to open. However, let us know if you think it should be sooner!
Attend the 2020 Dance/USA Virtual Conference June 17-19!
A silver lining of the pandemic is that members of the dance community who would never have been able to budget the time or money to attend a three-day conference out of town now have a very low-cost option to hear great speakers, participate in rich conversations on topics including virtual dance production, equity, and planning for the 2020-2021 season, and socialize with people from across the country. Registration is pay what you can but unlike some virtual events, registration closes early. Sign up by June 10 at midnight
Americans for the Arts' conference is going virtual too, June 23-25. Mark your calendar now for the streaming  keynote by great musician and community activist Vijay Gupta on "The Next Response: Practicing the Future, Now" Tuesday, June 23, 2020 at 11:30 a.m. 
Need to up your technology game? Our friends at Cambridge Community Television have been helping The Dance Complex and have rolled out a series of online workshops on getting the most out of Zoom, audio editing and more