Enjoy the final week of BDA Dancer Health Month
There are three more live sessions and the archive is now available. Register now for access to everything!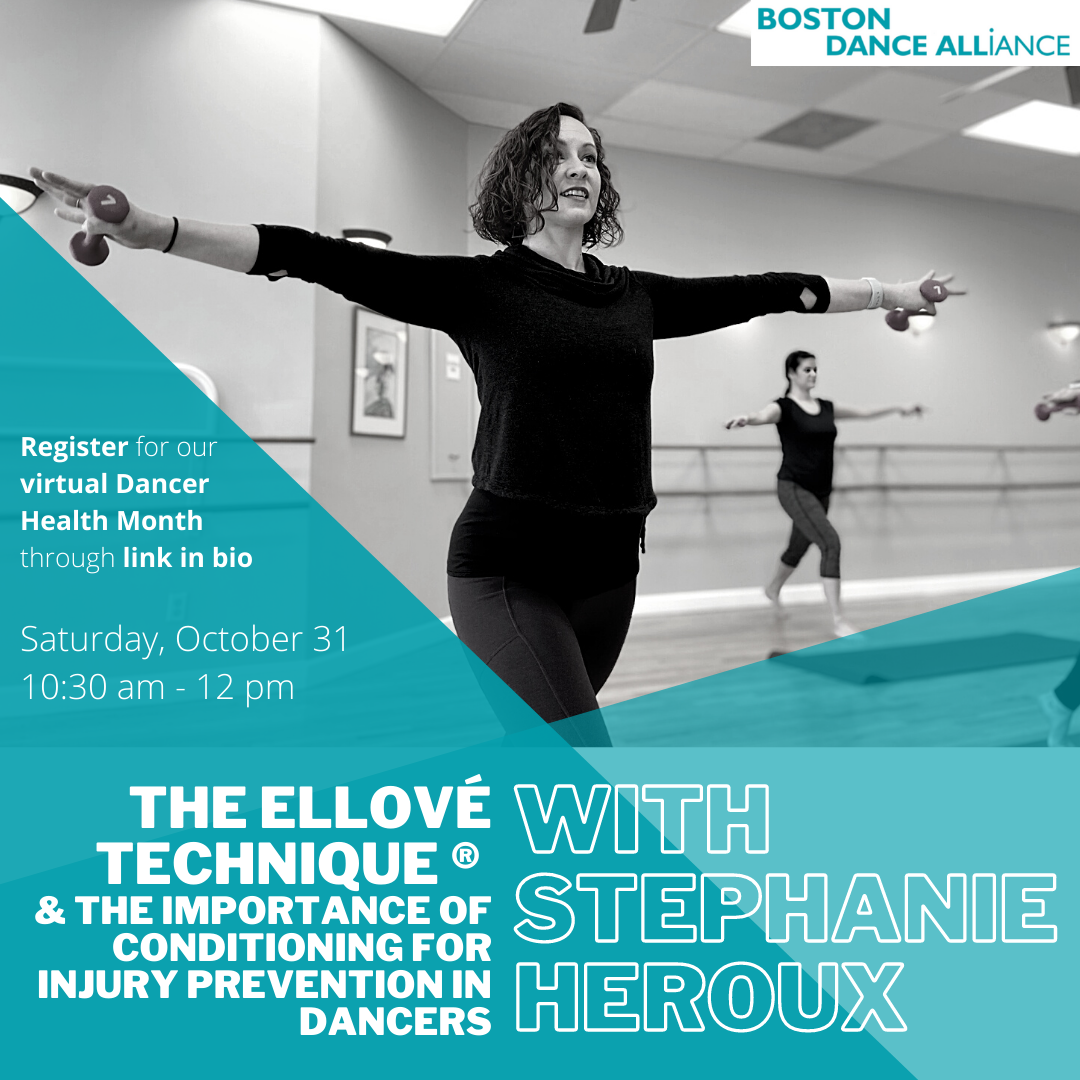 Saturday, October 31, 10:30am-12pm
The Ellové Technique ® & the Importance of Conditioning for Injury Prevention in Dancers with Stephanie Heroux, PT, DPT, Active Motion Physical Therapy, Wakefield MA  This 55-minute conditioning class uses elements of ballet, fitness, Pilates, and yoga to improve strength, flexibility, and core stabilization for injury prevention for dancers. It will be followed by a 20 minute presentation about the benefits of cross-conditioning for dancers and a 10 minute Q&A session. Participants need nothing to participate in the class and discussion, but may use a yoga mat and 1-2 lb hand weights if they choose
Monday, November 2,  5:30-6:30 pm
Preventing Dance Injuries, with Mary Dubon, MD and Ellen Geminiani, MD, Sports Medicine Division, Boston Children's Hospital
Wednesday November 4, 1:15 – 2:30pm
Dancing in Heels with Courtney Livingston  PT, DPT, CSCS, Spaulding Rehabilitation Hospital, Wellesley, MA. All gender identities welcome!  Have your heels handy if you have them, but the workshop will be taught barefoot.
Do you need accommodations in order to access any of these sessions? If so, please contact dcash@bostondancealliance.org as soon as possible and we will do our best to arrange them.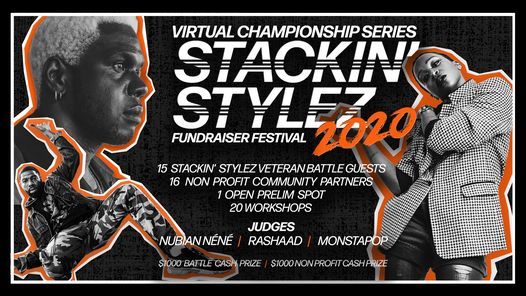 Stackin' Stylez is an annual freestyle dance festival dedicated to preserving and promoting Boston's unique, urban dance culture. The festival is intentionally designed to bridge the gap between generations, honor our history and create transformative spaces for the next era of street dance.
Watch high level street dancers go head to head as they battle for donations for their local community nonprofit organization when Stackin' Stylez top 4 compete on Saturday October 31 from 5 pm.- 7 pm. in a unique gameshow style freestyle dance battle. Then register for workshops on November 1!  Catch the finals on November 14.
NEW COVID-19 GRANT OPPORTUNITIES
IN SOMERVILLE AND CAMBRIDGE
The Somerville Arts Council (SAC) is launching the COVID Relief Grant for Individual Artists which will provide financial assistance to Somerville individual artists (of all genres) facing dire economic circumstances brought on by the COVID crisis. These funds are intended to help local artists who add value to Somerville's economy and creative life. One-time Covid Relief grants will range between $2,000 and $4,000, depending upon need and number of applicants.
Deadline is Monday, November 23rd at 11:59 p.m.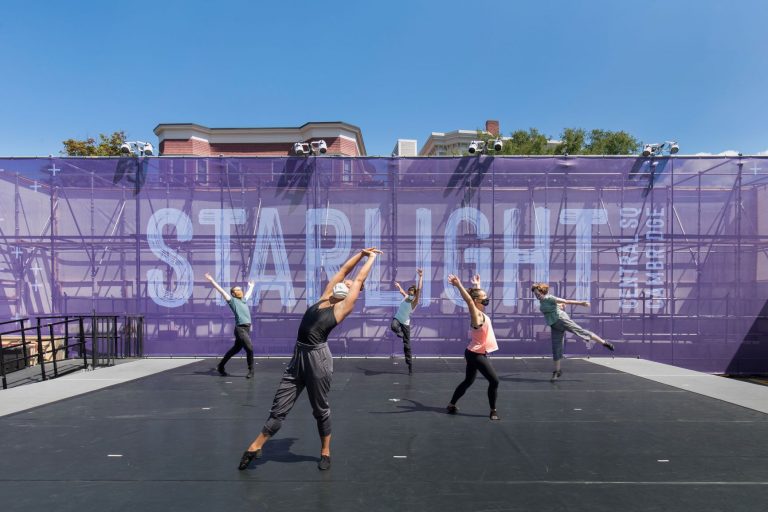 The Cambridge Community Foundation and the City of Cambridge have joined forces to launch a new Cultural Capital Fund, with grant funding of over $600,000 to address urgent needs in the local arts and culture sector due to the COVID-19 pandemic as an initial step. CCF also commits to building an endowment for the arts and culture sector, targeting $5 million over five years, to protect the city's cultural richness over the long term.
Applications from organizations with 501(c)(3) status or a fiscal sponsor with 501(c)(3) status are being accepted on a rolling basis. 
Need fiscal sponsorship in order to apply? Boston Dance Alliance is here to help!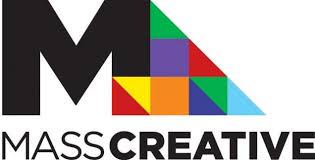 Congratulations to the wonderful team at MASSCreative who have been working tirelessly to help all of us navigate the pandemic on receiving a two-year $175,000 discretionary grant from The Boston Foundation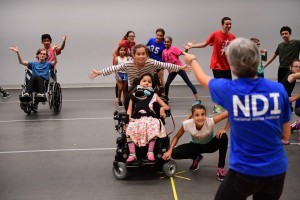 The National Dance Institute DREAM Project's co-founders share  strategies to ensure equitable inclusion, as well as tools to effectively differentiate instruction and highlight & develop every dancer's abilities November 2, 9, 16 & 23, 4:00pm-6:30pm.
Scholarships are available, but inquire soon.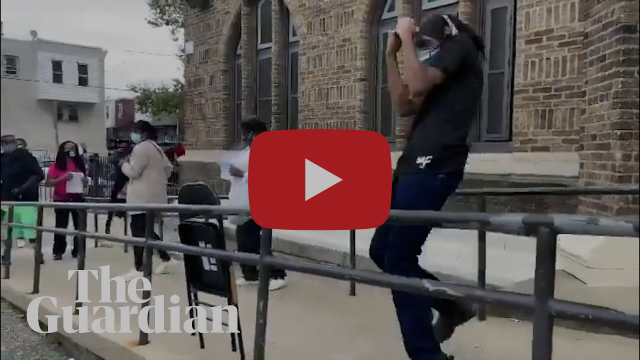 Klinton Cooper leads the Resistance Revival Chorus and other Philadelphia voters waiting in long lines to cast their ballots in the Mississippi cha cha slide.
"What I did was dance for joy. They're going to try ways to break us down but that video shows that they can't break us down," Cooper said. "And that's what our ancestors did — they danced and they smiled even though they couldn't even vote. They went through a lot to be where we are today."