As we adjust to the new normal of a stay at home advisory in Massachusetts that will last at least through April 7, 2020, new resources are coming through, and dance is taking new forms on virtual platforms.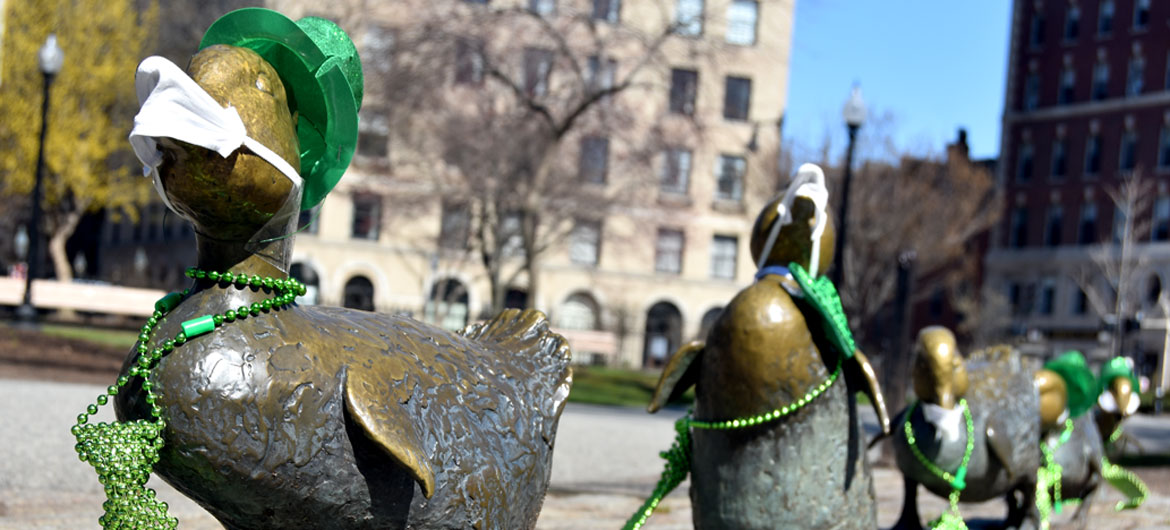 Make Way for Ducklings Make Way for the Coronavirus.
Photo used with gracious permission of the photographer, gregcookland.com/wonderland
In the first federal stimulus package expected to be signed by the end of the week, the cultural sector has not been forgotten.
What does this mean for you? The most important aspects are that freelancers/gig workers are covered, and small business (including dance studios) will be eligible for special emergency loans. 
Individuals who make less than $75,000/year will receive a $1,200 check, with an additional $500 per child. $99k/year for individuals or $198k/year for couples is the cap for receiving any of the $1,200 check.
The maximum state unemployment benefits will increase by $600 every week for 4 months. Gig economy workers, furloughed employees, and freelancers will also qualify.
 $350 billion will go to small business loans.
 $75 million will be disbursed to the National Endowment for the Arts to quickly award "general operating grants with no match requirements" to nonprofit and governmental arts agencies across the country, with 40% going to state arts agencies such as the Mass Cultural Council for regranting.
Your advocacy worked. Thank you!  Other relief efforts are coming, too. Stay tuned.
The Gig Workers Collective has assembled a list of national resources that includes some new resources to help freelancers meet basic human needs. And the Rauschenberg Foundation is accepting applications to cover the cost associated with medical emergencies (not lost wages). (Do remember that if you get Covid-19 — and we pray you don't — your testing and treatment will already be free under the stimulus bill.)
Creativity abounds online
I posted links to some upcoming performances by local artists on The Arts Fuse by Brian Crabtree, Maggie Cee, and Kelley Donovan; Merli Guerra added information about Artist2Artist and Rogue Dancer's film fest. Let BDA know about online performances by emailing dcash@bostondancealliance.org 
Somatics and contemporary dancers associated with the Five Colleges and elsewhere — with teachers such as Yaniro Castro and Jenn Nugent – are appearing on freeskewl on Zoom.
Tappers have their shoes on and are ready to rumble. On March 28 (Saturday) there is an all day online Global Tap Festival, the wonderful Dormeshia and Jason Samuels Smith are hosting The Distant Social, a tap jam on April 3, and tap and percussive artists can join a global competition to Tap The Screen.
Manifest Boston is inviting artists and performers across to genres to fill 45 minutes to "break open the mold of what it means to "be together." Describe your dream project here 
Teachers can take advantage of special two month free access to the Online Forums of NDEO, the National Dance Education Association. Transform your teaching practice!
David Kessler, in a thoughtful interview in the Harvard Business Review "That Discomfort You're Feeling Is Grief" says
When you name it, you feel it and it moves through you. Emotions need motion. It's important we acknowledge what we go through. […] Your work is to feel your sadness and fear and anger whether or not someone else is feeling something. Fighting it doesn't help because your body is producing the feeling. If we allow the feelings to happen, they'll happen in an orderly way, and it empowers us. Then we're not victims.
Keep moving, whatever that means to you. We will get through this.