Ten days ahead of schedule, the Commonwealth of Massachusetts has opened the portal for unemployment assistance for self employed/freelance/gig 1099 workers.  Even if you have never been eligible for unemployment, you are now.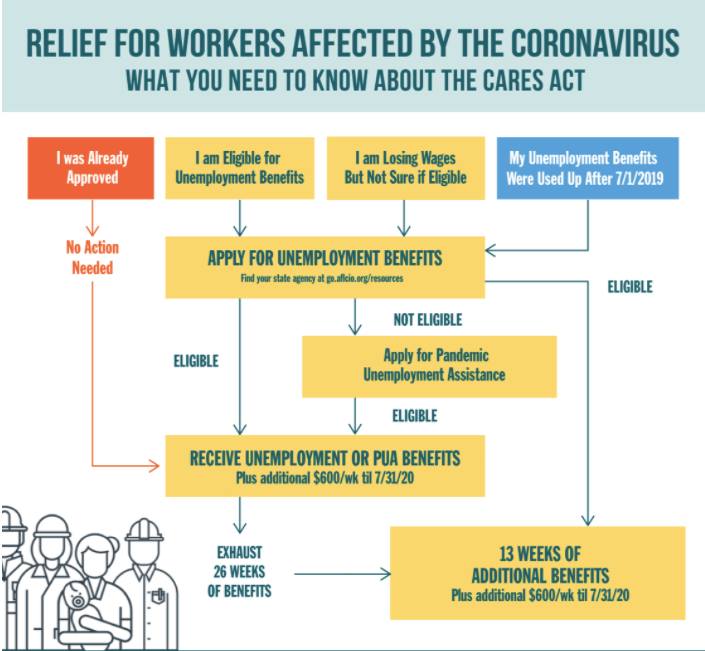 The Pandemic Unemployment Assistance (PUA), extends up to 39 weeks of eligibility for individuals who:
-are self-employed, including gig workers, freelancers, and independent contractors;
-are seeking part-time employment;
-have an insufficient work history to qualify for benefits;
-have exhausted all rights to regular or extended benefits under state or federal law or to Pandemic Emergency Unemployment Compensation (PEUC);
-have been laid off from churches and religious institutions and are not eligible for benefits under state law; or
-are otherwise not qualified for regular or extended benefits or Pandemic Emergency Unemployment Compensation (PEUC)
While system is currently only able to process retroactive benefits to March 14, 2020, eligible workers will be able to seek retroactive payments to Jan. 27, 2020.Review the information on the state website — it is relatively straightforward — and then, if you still have questions, there are two immediate resources you can use
Worried about your housing or studio rent? Massachusetts is pausing most evictions and foreclosures due to the economic shutdown. If you can't pay, contact your landlord or bank right away and check with the staff of your local state rep if you get push-back.
We All Need Someone to Lean On
Dr. Lauren Elson of the Boston Dance Alliance Board of Directors encourages every dancer who is stressed and anxious at this difficult time to check out the inaugural mental health webinar designed just for performing artists! The International Association for Dance Medicine and Science webinar includes Drs. Nancy Kadel, Robson, and Thomson with Mr. Peter Lewton-Brain and Dr. Lynda Mainwaring for a half hour webinar examining how the current COVID-19 pandemic is affecting performing artists, and how we can help ourselves and each other.
Dance Community Milestones
Our community experienced both sorrow and joy this past week.
Veteran dancer and teacher Anne Tolbert passed away after a long illness.
2015 BDA Dr. Michael Shannon Dance Champion Thelma Goldberg celebrated attaining her doctorate in Educational Studies at Lesley University with a dissertation titled "Trends and Traditions: A Mixed Methods Study of Tap Dance Education in the Private Sector Studio."
Resources to Share and Enjoy
 Liz Lerman has given BDA permission to publicize the beta version her Atlas of Creative Tools which is imagined as a digital commons for dancemakers and other creators. This ten hour course is free.
Having problems with the sound quality of music during your online Zoom classes? Bryant Henderson, suggests the following:
I use my computer (Mac) to host the Zoom meeting. I connect my bluetooth headphones (AirPods) as the Output & Input sources. (These can be edited in Zoom's preferences. Then I initiate a Zoom meeting as normal. In Zoom, select "Share Screen" > "Advanced" > "Computer Sound Only".
Now, open up whatever desktop music player you would like to use (Spotify, Apple Music, Pandora, etc) and play music from there. This will allow both the sound from your music player and from your bluetooth headphones/mic to be heard simultaneously.
**You will need to play with the "mixing" of your sound a little bit to get it just right. Initially the music was way too loud, so I suggest a few practice runs before blasting your students with music. Control the sound of your music through the music player itself (Spotify, Apple Music, etc.)
Bonus Feature of Spotify: If you have Spotify on both your SmartPhone and desktop, you can use your phone as a "remote" control so you don't have to continuously pace back and forth to stop/start music.
And among this week's must-see streaming performances
Tamara Rojo as Frida Kahlo and Irek Mukhamedov as Diego Rivera in the English National Ballet's production of Annabelle Lopez Ochoa's "Broken Wings" April 22-24, 2020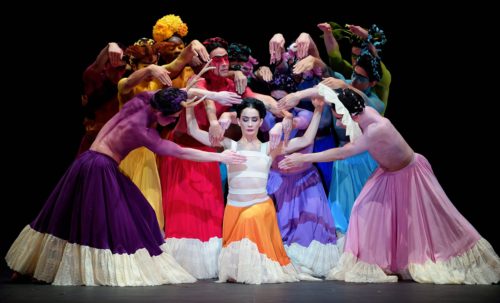 and mark your calendar for Bright Lights: Cunningham with director Alla Kovgan, Sign up by noon on Tuesday April 28, and the organizers will send you the Zoom link for this tribute to one of the world's greatest modern dance artists. Discussion with director Alla Kovgan, Visual & Media Arts professor Shaun Clarke, and Boston Conservatory at Berklee dance professor Alissa Cardone. Event streams 7-10 p.m.