Boston Dance Alliance is saddened by the recent loss of beloved artist and educator,
Danielle Abrams.
BDA will be remembering all dance community members who passed away since May 2021 at our Gala on May 15th. If you know of anyone we should mention, please send the information ASAP to dcash@bostondancealliance.org
"Making it Visible: Disabilities in Dance Seen and Unseen" on Tuesday April 26th at  6PM either in person at Complex@Canal  oronline from anywhere is a chance to hear the perspective of five local dance artists with 'invisible' disabilities. All of the speakers gathered from this event have participated in Boston Dance Alliance's year-long Dance and Disability initiative, designed to create a more equitable, inclusive dance world for all. Hear from Cassandre Charles, Joshua Hines,and Lida Winfield and moderators Karen Krolak of Monkeyhouse and Nicole Zizzi of Evolve Dynamicz.
Join Harvard Visiting Dance Innovators Program artists Wideman Davis Dance and Gerard & Kelly for a virtual conversation on the artists' work and process. Common Structures: Practices Between Site, Movement, and Archive,  happens Wednesday, April 27th from 12-1:30PM.
Many arts teachers feel like they are hitting a dry spell with their curriculum or are feeling the challenges of classroom engagement as the weather is getting warmer, vacations are happening, and the end of the school year approaches. The Art Teachers Alliance meeting online Wednesday April 27 from 7-8:30pm will focus on curriculum. Share your most successful projects and ask for help refining plans that are inclusive and meet the needs of our young artists, actors, dancers, and musicians. RSVP by 5pm Monday April 25th.
Join BDA Fiscal Sponsee Jessica Roseman for The Dance Complex's 10th collaboration within the Reflection, Healing & Movement Series! Head to Complex@Canal on Wednesday, April 27th from 6-7:15pm for NOURISH: Sense, Move, and Feel Better. In-Person Registration and Virtual Registration
Ailey Week is back and in person! Thursday April 28-Sunday May 1,the beloved troupe celebrates the tenth anniversary of Robert Battle's tenure at the helm, and showcases Ailey classics along with resident choreographer Jamar Roberts'2021 Holding Space, created on video during the pandemic and only now being presented on stage.
Join certified Gaga teacher and International Project Manager for Gaga Movement Research Ana Harmon for new Gaga movement classes at the Dance Complex! Starting Thursday, April 28th from 10 – 11AM. Register here. 15% of the proceeds from this class series will be donated to the International Rescue Committee (https://www.rescue.org/).
Rachel Linsky describes ZACHOR, her ongoing choreographic and advocacy work that seeks to preserve the words of WWII Holocaust survivors. Register for an online conversation with JLive onFriday, April 29 at noon. 
Join OrigiNation Cultural Arts Center for a fundraising mixer, The Jump Off! There will be dancing, performances, food, and music by DJ Fed. Friday, April 29th at 6:30PM in Roxbury.
Festival Ballet Providence (FBP) brings their  2021-2022 season to a close with Blue Until June featuring  Trey McIntyre's Blue Until June, set to the music of Etta James, Yury Yanowsky's bold and contemporary Bariolage set to music by composer Shinji Eshima, plus Yanowsky's at the end of set to music of Bach. At the Woodman Family Performance Center at Moses Brown School Friday, April 29th at 7:30PM, and Saturday, April 30th at 2PM and 7:30PM
Christopher Croucher and dancers present Letting the Land Lead, the first piece in an ongoing series of environmentally-themed outdoor immersive dance pieces that support local conservation efforts. At the Assabet River National Wildlife Refuge in Sudbury, Saturday, April 30th from 4-6PM. 
The Northeast School of Balletpresents Cinderella, April 30th – May 1st at the J. Everett Collins Center for the Performing Arts.  Both in-person and virtual tickets are available.
Join the Kuumba Singers of Harvard College for a night of song, dance, and spoken word to celebrate  Annual Dean Archie C. Epps Spring Concert on Saturday, April 30th at 8PM in Sanders Theatre.
Alexandria Nunweiler and Ashlea Sovetts present Cure8 Cambridge, two evenings of dance brought together by interdependent and intertwined relationships in the community at Complex@Canal, Saturday, April 30th at 8PM, and Sunday May 1st at 7PM. For these performances, the curators invited newly formed collaborative, The Click to share "Survival Aesthetics," which explores variations of beauty and argues aesthetics are key to survival.
Pantos Project Dance's adult performance collective presents their Spring Studio Show, including work by ensemble co-director, Marissa Masson and ensemble choreographers, Lindsey Calabretta, Savannah Melo, Rianna Lindsay, Emma Limperis, and Makayla Garrett. ​Saturday, April 30th at 7:30PM.
Join Ann Biddle (Director of DEL at Jacob's Pillow) and Felice Santorelli (DEL Facilitator) for Virtual Delving into Dance History Mini Workshop: Asian American Women in Dance: Yuriko Saturday April 30 10AM-1PM. This series aims to celebrate women's voices in dance history with an exploration of the life and work of Yuriko Kikuchi, who was a principal dancer in Martha Graham's company from the 1940s to 1967.
Harvard's Candela Latinx Dance Troupe makes their debut with Un Viaje por el Mundo as part of the ARTS FIRST Festival on Sunday, May 1 at 6:30 PM. Come see salsa, bachata, merengue, festejo, tango and many more dance styles while you learn more about the countries they come from. ¡No te lo pierdas!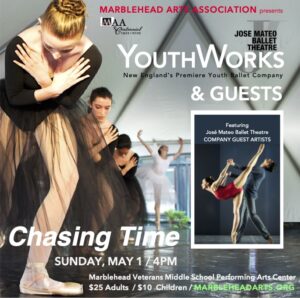 The Marblehead Arts Association, in conjunction with Jose Mateo Ballet Theater, presents Chasing Time by YouthWorks & Guests, New Englands Premiere Youth Ballet Company. Sunday, May 1 at 4pm at the Marblehead Veterans Middle School Performing Arts Center.
Calling all Boston choreographers and movement makers! The Boston Dancemakers Residency for the 2022–23 season is open! The Boston Dancemakers Residency is designed to support new work from conception to performance.Produced through a partnership between Boston Center for the Arts (BCA) and Boston Dance Alliance (BDA), this intensive Dancemakers Residency is unique in scope and vision, with the intent to be transformational rather than transactional Apply by May 22nd
CreativeActionBoston.org, collaboration between Midday Movement Series and Zero Point Arts (formerly Studio@550), is sponsoring a discussion about crafting a Boston Dance Code of Ethics for individual dance artists and small grass roots organizations. You can attend in person or online Sunday, May 1 from noon-2PM. 
The Calderwood Pavillion is hiring a House Manager to coordinate and supervise all front-of-house operations for the Calderwood Pavilion at the BCA. They are responsible for hiring, training, scheduling, and supervising front-of-house, and volunteer staff. The Calderwood Pavilion House Manger ensures the safety of all patrons entering the facility. This position is a key member of the Calderwood Operations Team overseeing the building operations during performance times. Apply by May 13th.
Jacob's Pillow has partnered with the global video channel NOWNESS to produce Body Language–a series of three films centered on the theme of breaking cultural boundaries in dance. In this first iteration, director Leo Pfeifer follows Pittsburgh-based performance artist Bill Shannon on the streets of New York City, showcasing a gravity-defying display of dance.
Eid Mubarak to those who celebrate and a friendly reminder to register for the BDA Gala! If you're interested in attending for free, please fill out this sponsored dancer form and we will do our best to get you a ticket!
With care,

__________
Debra Cash, Executive Director